For your business, running an Instagram account is more than just having fun. Whether you run a multi-million-dollar company or a local store, you want to reach a new audience, acquire more followers, and make more sales. 
Fortunately, the Instagram Explore page is an effective and free way to reach users who are yet to follow your business but will likely love what you do. With over 50% of (or 500 million) Instagram accounts using Explore every month, this is a huge potential for your business to acquire more customers. 
In this post, I'll go into more detail on why your business needs to show up on the Instagram Explore page and how to get on it. 
Let's begin.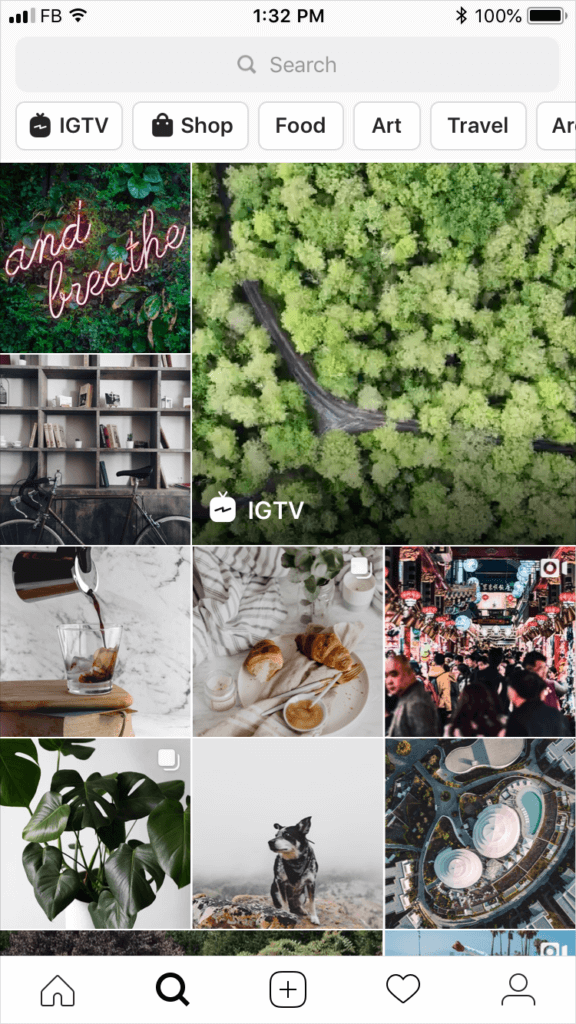 Why you should get on the Instagram Explore page
The Explore page started as the "Popular" page. Then, only popular accounts with high engagement had a chance to feature on this page. 
Unfortunately, many times, the Popular page was neither relevant to users nor beneficial to businesses. Enters Explore. 
Now, each Instagram user can receive recommendations based on their activities on Instagram and topics they'll probably love. 
With this in mind, what are the benefits your business can gain by getting on the Instagram Explore page? 
Ability to reach a highly-targeted audience:

there's a reason Wired called Instagram Explore the "

realest place on the web

." On the Explore page, it's all about personalization and relevance. Therefore, any view you get on Explore is from users likely to have an interest in your brand and the topics you post about. 

Opportunity to increase brand awareness:

when people need to buy shoes, they think of the shoe brands they already know. Showing up on the Instagram Explore page means more potential customers get to know your brand and the unique benefits you offer. 

Better chance of gaining more followers and customers:

users interested in your topic are likely to engage with your posts and follow your account. Likewise, these users can find your shopping posts on Explore to buy your products. 
How Instagram Explore page works
What makes Instagram Explore page different from the Instagram feed or search? Understanding this can help you create posts likely to feature on the page. 
To provide relevant content on Explore, Instagram trains its algorithm to understand each user's interests through the posts they engage with and accounts they follow. Therefore, each user sees a unique Explore page. 
Furthermore, this page changes as the user's activities change. In addition, Instagram considers the actions of accounts a user engages with.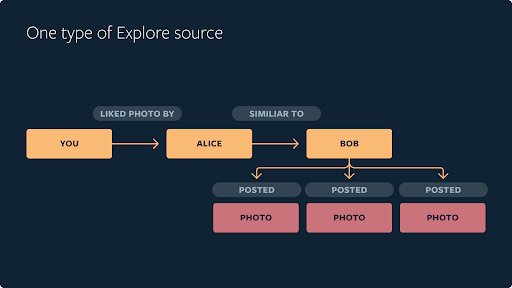 For instance, if an influencer in the beauty niche likes or comments on an Instagram post about your beauty product, their engaged followers are likely to see your post on their Explore page. 
According to a user's interests, Instagram selects many seed accounts. From these accounts, Instagram will rank the most relevant to the user based on different criteria. Then, the user will see pieces of content from these accounts.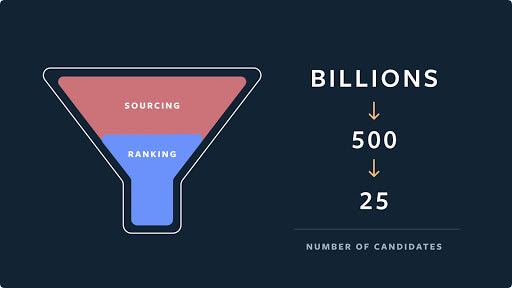 To ensure diversity, Instagram will usually show one post from an account to a user. This means once a user sees one of your posts on Explore, they're less likely to see another one soon. 
Currently, Instagram Explore page displays IGTV videos, stories, shopping posts, and Instagram videos and images. Furthermore, the posts a user sees on Explore are from accounts that they're yet to follow. 
In a nutshell, Instagram Explore page works to provide personalized recommendations to each user so that they can find what they like and discover new interests.
For instance, here's a post from Arturo Vidal on my Explore page: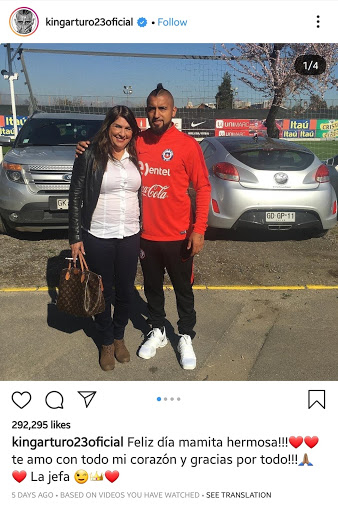 This post is based on videos I've watched. Funny enough, I remember watching a story from footballer Lionel Messi which featured and tagged Arturo Vidal. 
How do you get on the Instagram Explore page?
Having explained the benefits your business will gain by showing up on the Instagram Explore page and how the page works, how do you get featured on the Explore page? 
Follow these 10 vital tips to give your business the best chance. 
1. Understand your audience
Considering that Instagram's algorithm aims to understand each user's preferences, audience research is vital to creating the best post possible. To make the process effective, create an Instagram persona. 
This includes details such as:
Name

Age

Gender 

Location

Interests 

Income

Pain points 

Ambitions

Hobbies

Dislikes
One handy tool that can help with your audience research is the Facebook Audience Insights.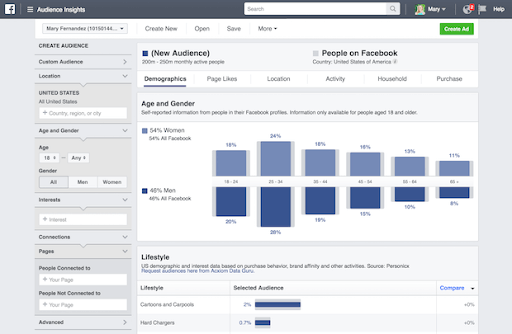 All you need to do is enter a few details about your audience and Facebook will provide more from its database. 
By capturing these details and more in a document, it becomes easier to create Instagram posts that your ideal audience can resonate with. As a result, your followers will engage more with your posts. 
This prompts Instagram to show your posts on Explore to more users like your followers. Furthermore, you can reach users who are just developing an interest in your niche. 
2. Share Instagram content with a consistent brand voice
If you post about football today, beauty tomorrow, and fitness the day after, your chances of showing up on the Instagram Explore page are slim to none. That's because rather than looking at individual posts, Instagram considers the whole account. 
In a Facebook blog post about Instagram Explore, Facebook explained that they "created a retrieval pipeline that focuses on account-level information rather than media-level."
If an average Instagram user goes through your posts, is it easy to tell what topic your account is all about? Even without checking your bio? 
The Instagram algorithm is more focused on accounts that are topically similar to what a user currently engages with. Therefore, for easier categorization, your business needs to stay on topic, use consistent hashtags, and connect with other accounts in their niche.
Consequently, your posts can show up on Explore to users who have shown interest in that topic. For example, here's an account that shows up on my Explore page: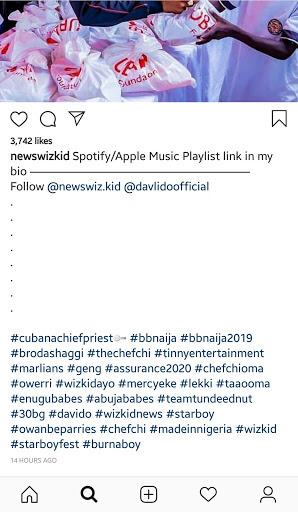 This account has niched down to the point where its posts focus only on the Nigerian musician, Wizkid. 
3. Create engaging videos
Even though Instagram was initially popular for images, videos are now growing in popularity. This is no surprise considering that the demand for video content has risen over the years. 
For example, in a HubSpot study, 54% of consumers expect videos from brands. To push videos further on Instagram, the social media network has added IGTV and stories to the Explore feed.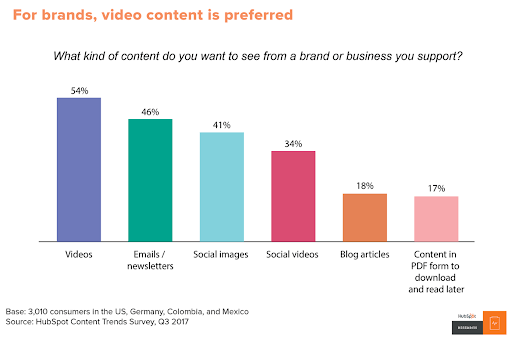 Beyond these two, Instagram favours videos ahead of images while featuring Instagram feed posts on Explore. According to Instagram product lead for discovery, Will Ruben, videos have the potential to be ranked higher because they auto-play in Explore and tend to get more attention.
In a nutshell, Instagram videos have applications in feed posts, IGTV, and stories. 
However, creating poor videos won't get you automatically onto the Explore page. Instagram insists that a great image has a higher chance of getting on the Explore feed than a poor video. 
What types of videos do your audience want to see? If you want to get on the Instagram Explore page, your business needs to put more effort in creating relevant and engaging videos. 
4. Analyze best-performing posts
As a matter of fact, many Instagram posts appear on the Explore feed without the account owner optimizing the post for Explore. And this might have happened to some of your posts.
What can you learn from these posts? What trends will you find? But first of all, you have to discover your posts that have been featured on the Explore page. 
Explore the data behind your Instagram account.
Find the best time to post on Instagram
Track your follower growth overtime
Understand your post engagement
TRY INSTAGRAM ANALYTICS NOW
Navigate to your Instagram business account. Then, scroll to the post you want to analyze. After doing this, click on "View Insights."
Instagram will display a few metrics about your post. By swiping up, you'll get more details such as sources of your post's impressions.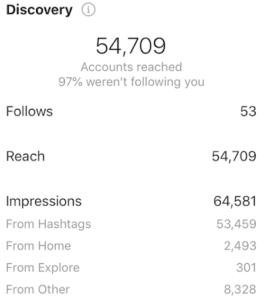 In another sense, you can learn from other accounts in your niche that get featured on the Explore page. After all, with an active account on Instagram, your activities will be similar to that of your ideal audience. 
Therefore, navigate to your Explore page and check posts related to your niche or topic. You can dive deeper and analyze the accounts. 
By analyzing your best-performing posts and that of other accounts in your niche, you'll discover the type of posts, hashtags, and other components of these posts and accounts.
5. Use relevant hashtags and location tags
Using hashtags is one of the best ways to organize your Instagram posts and boost engagement. According to a TrackMaven study, posts with 9 hashtags get the highest average engagement per post.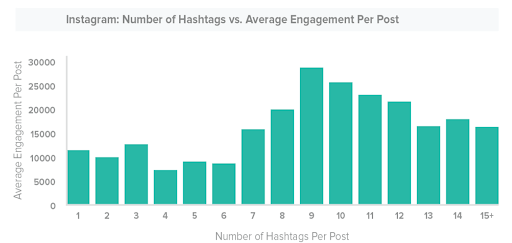 Three common types of hashtags to add to your Instagram posts are industry, branded, and topic hashtags. 
While branded hashtags help to increase brand awareness and organize user-generated content, industry and topic hashtags can help you reach a new audience. In addition, Instagram can use a topic hashtag to discover posts about a topic. 
If you use a topic hashtag that another user has used in the past, then your post will likely be relevant to them. Beyond that, using a location tag can help you reach Instagram users in your locality and get quick engagement. This is especially useful if you run a local store and your post is relevant to people around you. 
Apart from hashtags, you can tag relevant brands and influencers in your posts to encourage engagement from them. 
Besides, tagging is vital when you collaborate with those brands or influencers. In turn, your post can appear on Explore to their followers. 
For instance, here's a post featured in the "Architecture" category of my Explore page: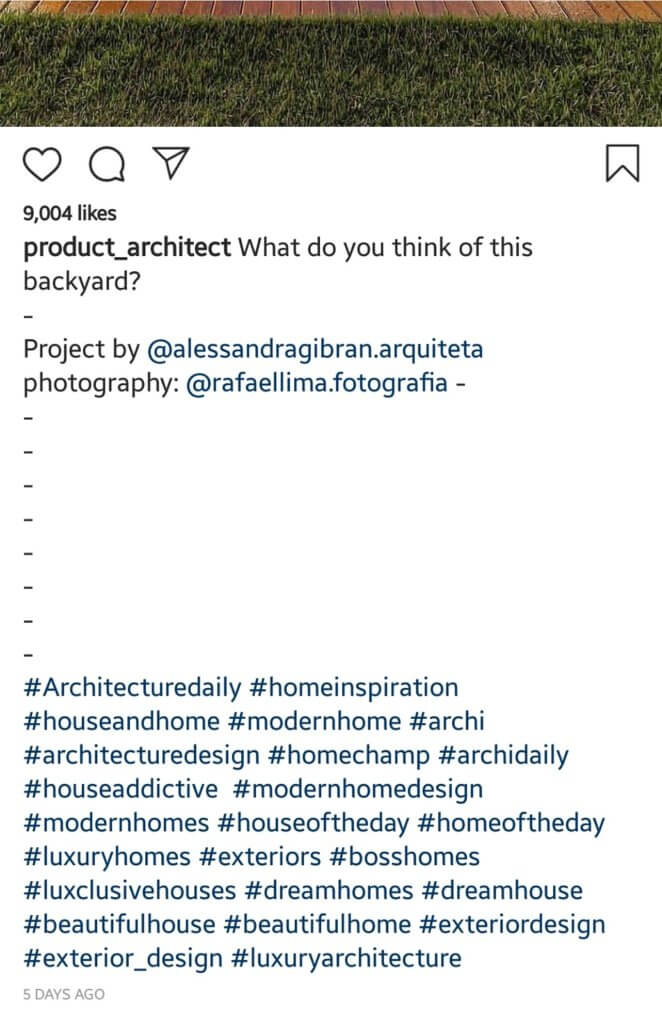 Unsurprisingly, this post has many hashtags related to architecture. 
6. Engage with your audience for further engagement
It makes sense that engagement is one of the most important signals of a post's relevance. An Instagram user will usually engage with a post when it's relevant to them. 
Instagram considers signals such as likes and comments to determine how relevant your post is to your ideal audience. Luckily, one way to encourage engagement is to engage with your audience. 
This can be through comment replies and reposting of user-generated content. As a result, your followers will engage more with your posts. 
Because of this, Instagram will show your posts to users similar to your engaged followers. 
7. Use captions to increase engagement
Even though Instagram is a platform for visual content, captions are growing in popularity. Combined with great content, captions can bring out the message in your posts. 
Another big benefit of captions is that they help your audience and Instagram understand the topic of your posts better. Also, captions keep users on your posts for longer. This can be a positive engagement signal for your posts. 
In addition to that, you can add CTAs to your captions to encourage users to like and comment. As a result of these, captions improve the chances of better engagement. When engagement grows, Instagram sees your posts as valuable and displays them on Explore to users similar to your followers. 
Here's a post featured on my Explore page about a mother with her new-born baby: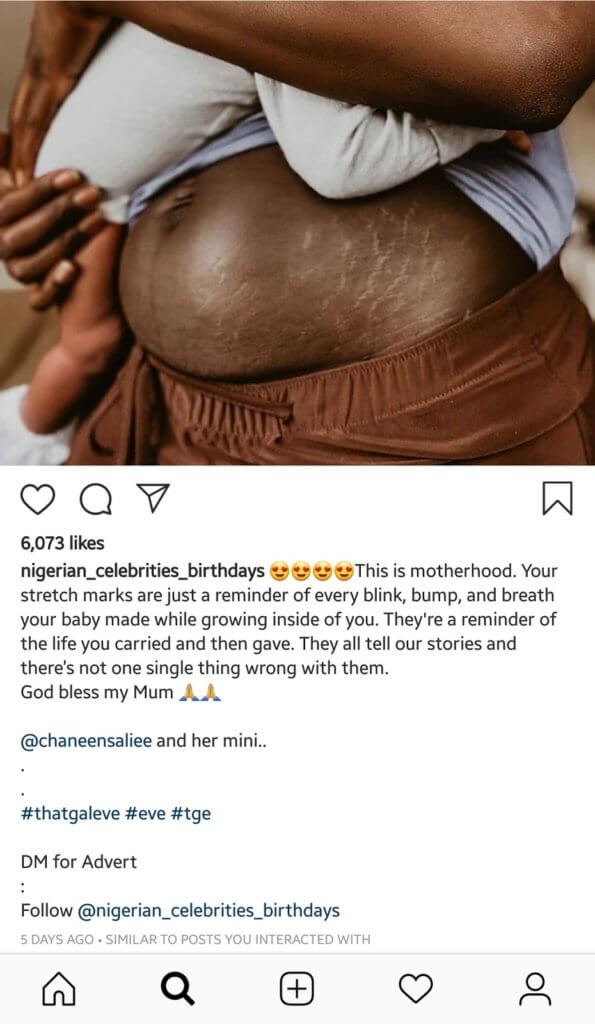 This is just a regular picture. However, the caption gave it more meaning and led to better engagement. Moreso, there's a call to action at the end of the caption. 
8. Schedule Instagram posts at optimal times for your audience
No matter how great your Instagram post is, it needs your followers' views to gain engagement such as likes and comments. Posting at the wrong time can send your post into oblivion. 
This means your post will fail to get the right amount of engagement quickly to look valuable and interesting. What can you do? 
An effective way to boost engagement is to find out when your followers are active online through Instagram Insights. Navigate to the top right corner of your profile page and click on the menu. Click on "Insights" and then the "Audience" section.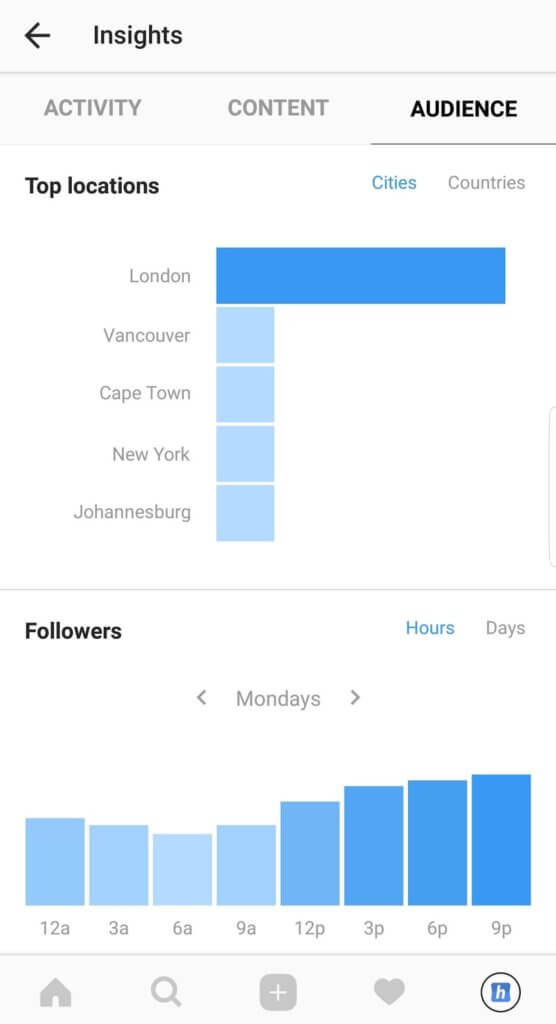 Next, you'll find information about the time your audience is most active. Then, you can share your posts at these times and track their performance. 
Better still, Hopper HQ's Best Time To Post tool eliminates the stress. After considering your follower activity and post engagement metrics, it will recommend the best time to share your posts.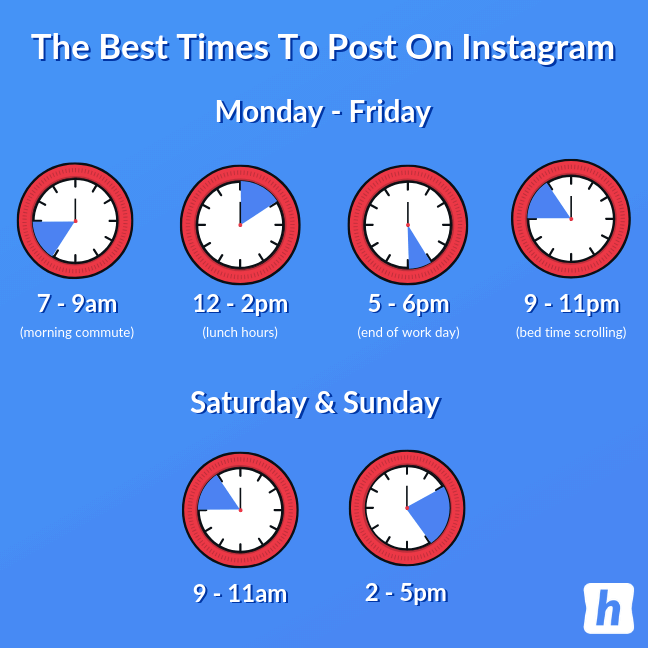 Once you know the time, you can schedule your posts at those times and track their performance. 
By posting at the optimal times, your current followers and potential audience are online to see your posts. As a result, you'll increase your chances of better engagement to push it to Explore. 
9. Run contests or giveaways
People love gifts and the thrill of winning a contest. And that's why contests are a proven way to increase engagement for your Instagram posts. 
For starters, most contests require users to like, comment on the post, and/or follow an account. Therefore, such posts get a lot of engagement in a short period. 
Here's an example of a post on my Explore page doing a giveaway: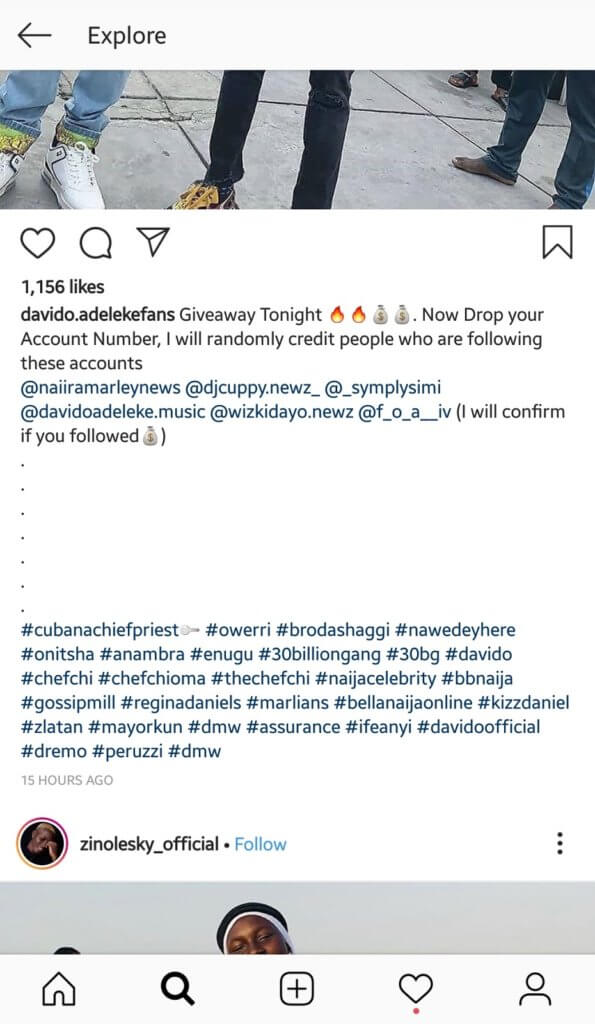 This post got over 1,000 likes in 15 hours and got featured on the Explore page. 
10. Run Instagram Explore ads
Following the tips mentioned above will get you on the Explore page, but it can take time. Fortunately, using Explore ads lets you achieve fast results. 
Plan your social media posts.
Visually plan your posts. Drag and drop everywhere.
To create an Explore ad, you'll have to create an Instagram feed ad. Then, you'll select Explore as one of your placements.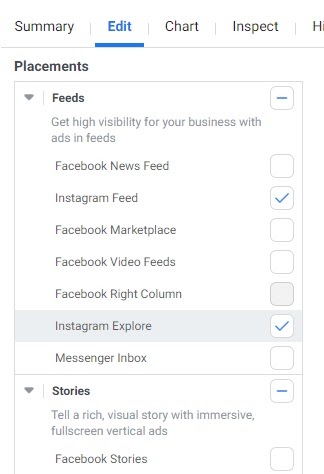 Through these ads, you can acquire more followers for your Instagram account to increase your audience size. In another way, you have the option to reuse your high-performing Instagram feed ads on Explore.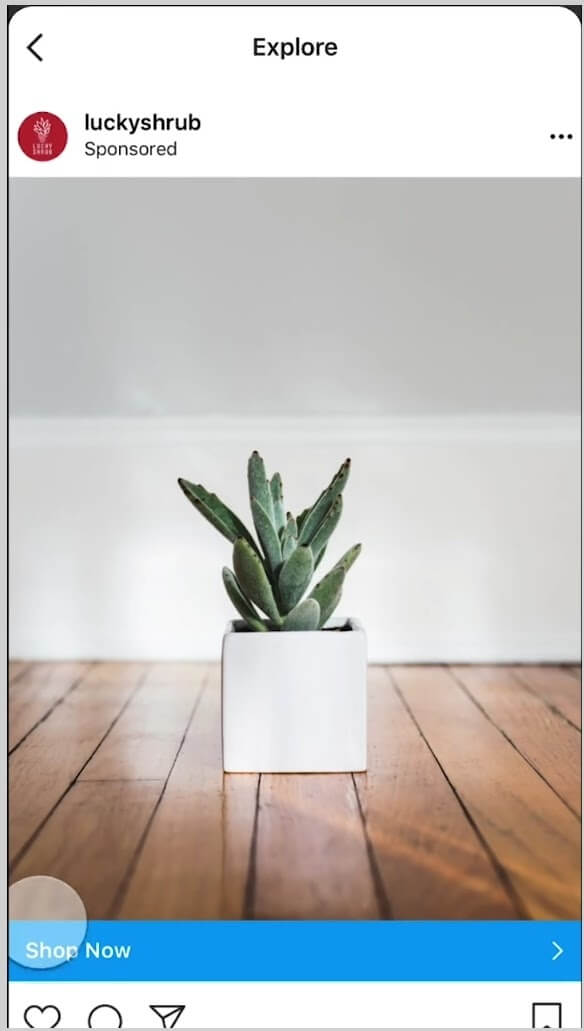 Consequently, you can replicate these results on Explore. However, you need to note that your ad won't appear on the Instagram Explore feed. Users will only see your ad when they click on an image or video. 
Conclusion
Getting on the Instagram Explore page is like running a targeted ad to your ideal audience. You can increase engagement on your posts through likes and comments, gain more followers, and even make direct sales through shopping posts. 
Better still, you have the ability to optimize your posts for each of these goals. 
According to Facebook, Instagram Explore will continue to evolve. Ensure you bookmark this page as it will be updated when new changes come to Explore. 
Have you been featured on the Instagram Explore page? Tell us what you did in the comments. 
---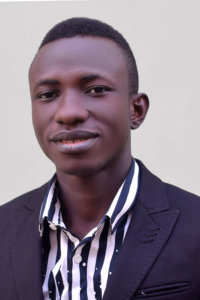 Samuel Olumide is a marketer expert freelance writer in digital marketing and technology niches. He has been featured on top blogs such as Jeff Bullas, Einstein Marketer, etc. and has experience creating valuable pieces of content for businesses and digital marketing agencies. He believes that with content, businesses can achieve their lofty goals on the internet.