Over the last few years, Instagram has evolved from a simple photo-sharing app into a powerful sales machine. With great marketing potential, it's no wonder big and small businesses seek out Instagram inspiration to create a winning strategy and beat competitors.
Although more and more companies use social media marketing for business, many brands still fail on Instagram for two main reasons: they don't learn from others' mistakes and they are not inspired to make up creative ideas. Before you start working on your marketing strategy, make sure you've boosted Instagram inspiration.
Why Instagram inspiration matters?
Gone are the days when Instagram presence could be an option for marketers. Today Instagram boasts over one billion active users (80% of whom follow a business), so this means huge marketing potential for businesses of all sizes and kinds of industries.
However, with 25 million businesses on the platform and over 2 million advertisers who use Instagram to share their stories and drive business results, it's getting harder to cut through the noise. Thus, brands seek out creative ways to reach out to their audiences, interact with followers, and convince them to choose their products over other options.
The easiest way to do this is to find Instagram inspiration from the best brands out there; to learn from them, get motivated, and implement similar strategies that work.
Looking for Instagram inspiration? Check out the following 15 best brands that get great results on Instagram…
Contents:
---
Followers: 87.1 million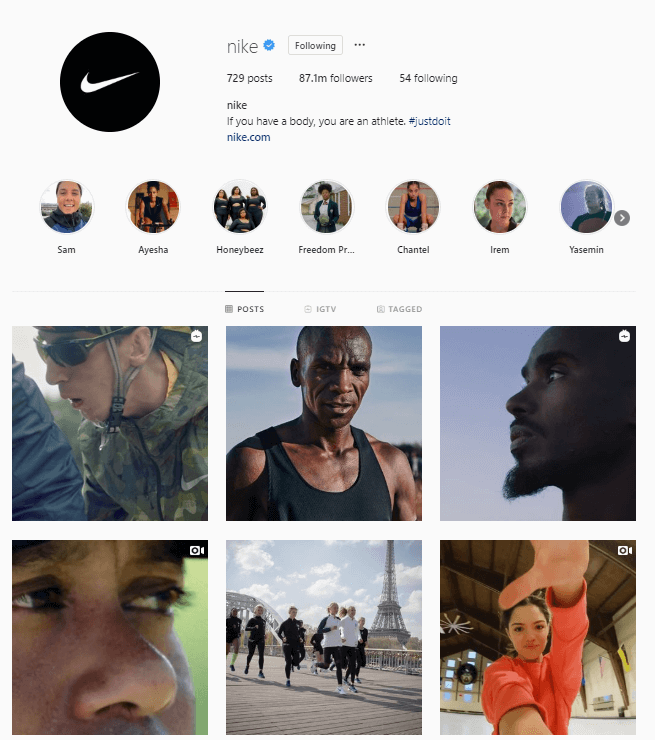 Nike is one of the largest brands with an army of fans around the globe, so it's no wonder the brand's marketing team knows how to implement a productive Instagram marketing strategy that attracts followers, keeps them engaged, and increases sales.
With over 87 million followers, the brand is the 3rd most followed brand account after Instagram and National Geographic which means not only a lot of engagement but also a ton of conversations.
What makes this brand so popular? Working in a hyper-competitive market, Nike knows that customers are bombarded with brand information that annoys. Thus, the company uses Instagram to sell products without selling. Instead of showing off its products with product tags, Nike uses emotional triggers to evoke feelings that influence decision making.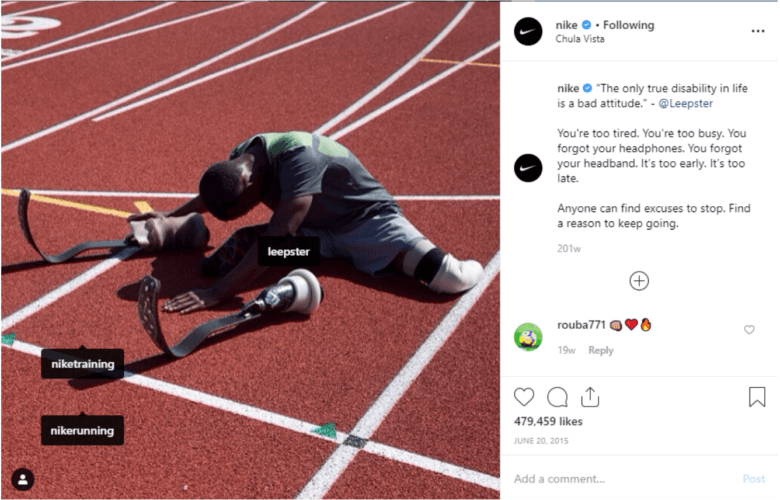 Since the brand uses emotive motivation, it evokes an emotional response in followers who come back for more. In other words, Nike helps followers build self-belief which creates an emotional bond with customers.
Instagram inspiration to take away: sell dreams, not products to encourage customers to choose your brand over others.
Know your customers' pain points to create content around these topics

Combine visual and text content to evoke emotions

Feature your products without a focus on them
Followers: 17.5 million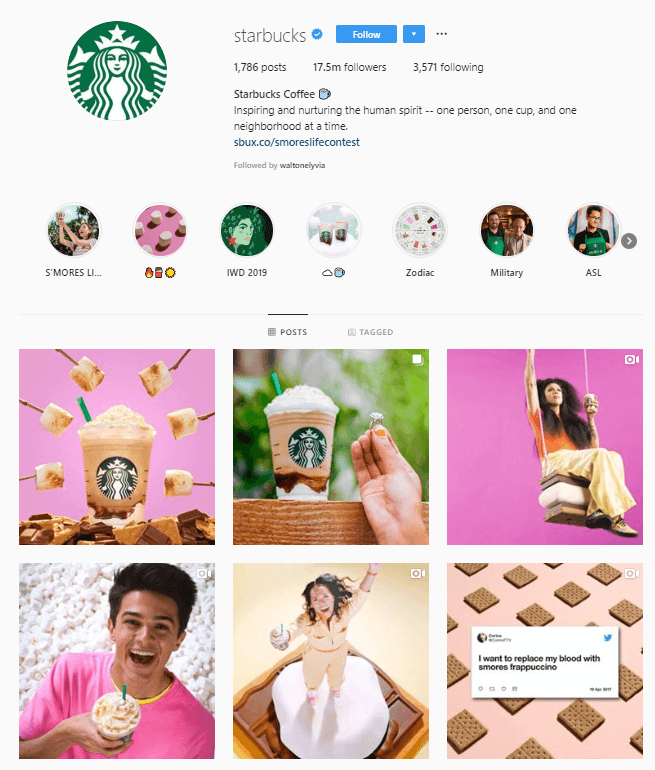 As one of the most popular coffee chains in the world, Starbucks needs no introduction, and the company is killing it on Instagram. With the average of 169,575 likes and 2276 comments per post, Starbucks generates a ton of engagement.
Although the brand invests in creating colourful and creative photos, it also posts user-generated content (UGC) as 93% of consumers find UGC to be helpful. Back in 2014, Starbucks ran the #WhiteCupContest to encourage its customers to doodle on their cups and post a photo of the finished product on social media for a chance to have their design printed on a limited edition Starbucks reusable plastic cup. The campaign resulted in 4,000 entries in just three weeks.
Today, Starbucks constantly gets many images of their products, and the company posts its followers' content to provide customers with a chance to be featured on the account, cause a buzz around their coffee chain, and drive engagement.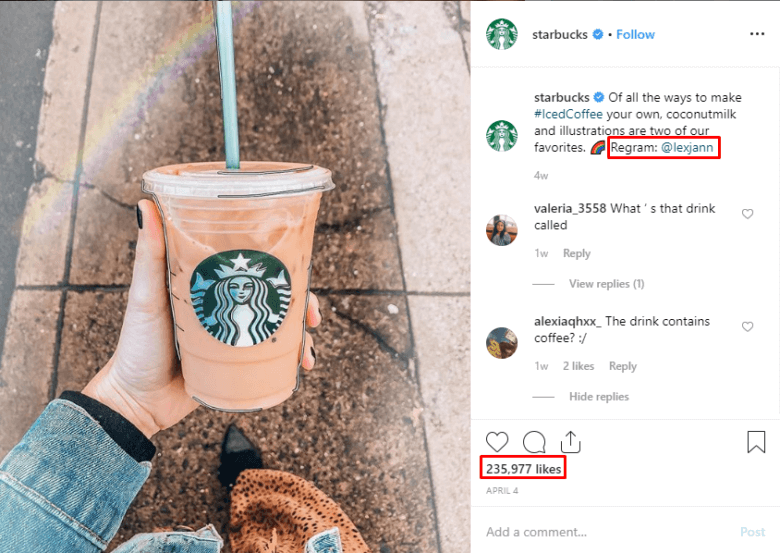 Since the account has over 17.5m followers, it's an honour for customers to be featured on the profile. In other words, UGC is a chance for Starbucks' customers to gain exposure and it's also a way for the brand to connect with customers and interact with them without spending much budget.
Instagram inspiration to take away: turn your followers into brand advocates to spread the word about your product on Instagram.
Collaborate with influencers to get first UGC photos

Encourage followers to produce UGC photos

(like and comment on images, run contests, provide rewards, etc.)

Ask permission before publishing images and tag photo authors
Followers: 17.4 million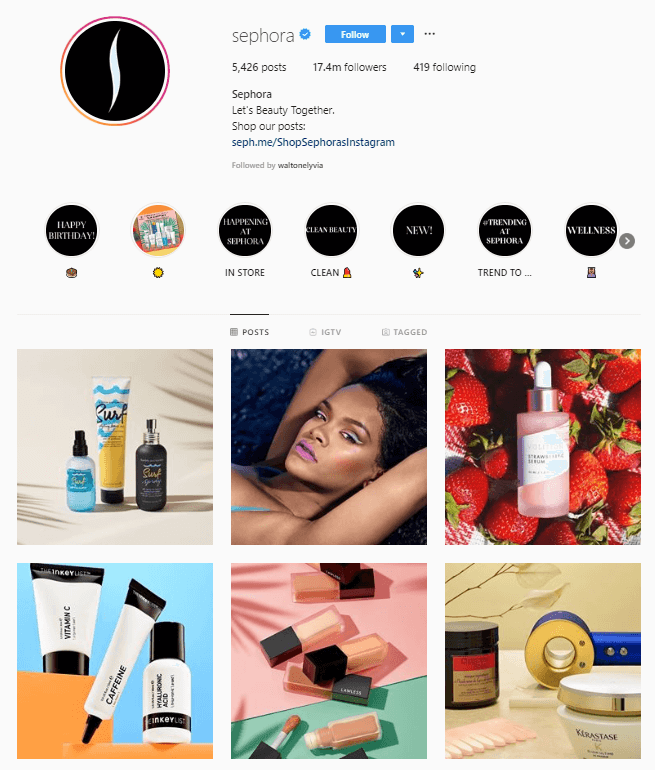 Before selling your products, you need to establish authority in the field, and Sephora is a great example of this tactic. With so many options on the market, niche expertise is what makes you one step ahead of your competitors who hope for the attention of the same audience. Once you have gained authority and credibility, your followers will be more likely to choose you over others.
As a chain of cosmetics stores, Sephora shares beauty tips and tricks with the audience to gain trust. The company uploads both regular posts and Instagram Stories to provide its followers with valuable information about product reviews, beauty trends, and tips.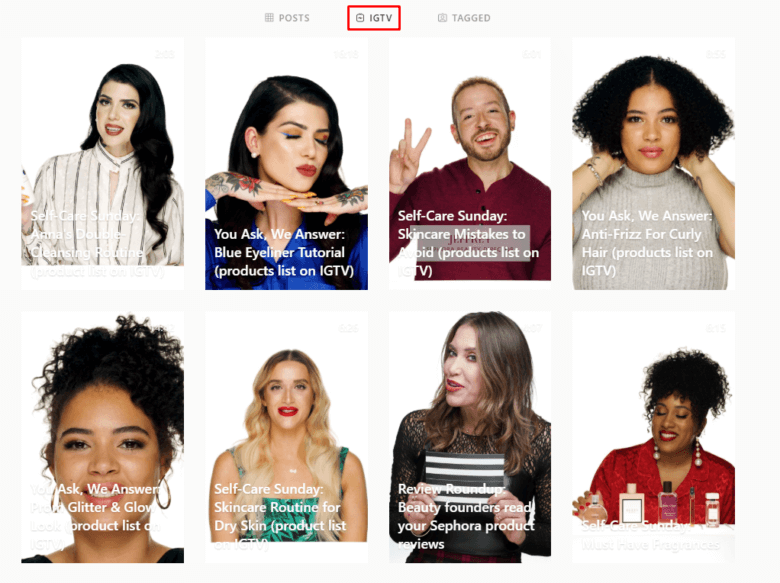 In partnership with brand ambassadors and micro-influencers, the company produces content that improves the customer journey through product education. Since Sephora collaborates with beauty experts, the company also demonstrates its beauty expertise which helps to attract more followers and gain trust and become an option when it comes to making purchase decisions.
Instagram inspiration to take away: become an expert in the niche to increase brand trust.
Share your achievements with the audience (testimonials, reviews, etc.)

Invite niche experts to share their tips and tricks

Launch your IGTV channel to upload long-form videos that can provide value to your customers
Followers: 15.6 million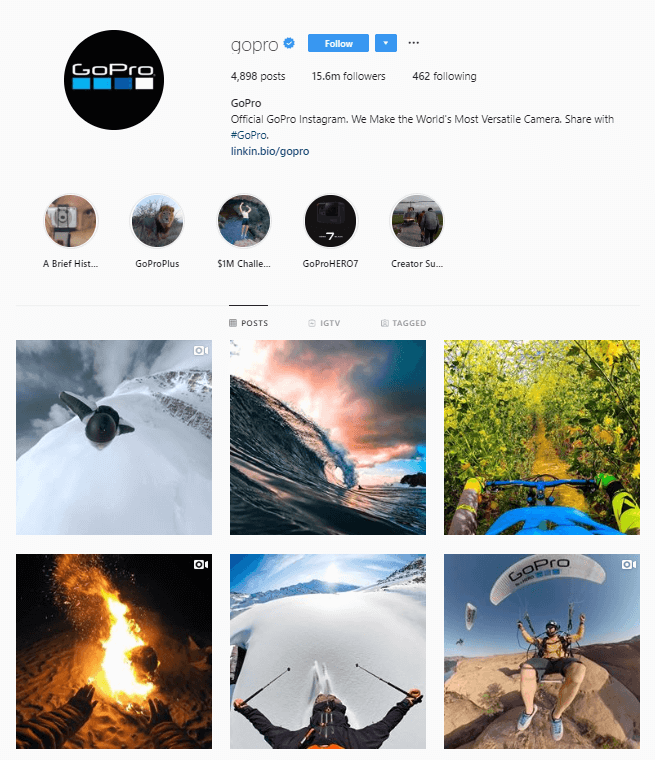 Not all brands focus Instagram business accounts on themselves. For example, the popularity of GoPro on Instagram is based on two main factors: it promotes a lifestyle of adventure and it features customers instead of selling and focusing on the brand itself. The company admits the success of this strategy:
"Our products in the hands of our customers enable compelling, authentic content that organically increases awareness for GoPro and drives demand for our products." — GoPro's S-1 filing (May 2014)
The brand uses the power of storytelling to <ahref="https: www.hopperhq.com="" blog="" increase-your-organic-reach-on-instagram-with-engagement-groups="" "="">increase engagement on Instagram, and it gives results: GoPro expanded its audience by 1.3M users and it got 92K mentions of #GoProAwards in 2018. Plus, the company launched the new #GoProHERO7 in September of 2018, and it is up to nearly 260K hashtag mentions and counting:</ahref="https:>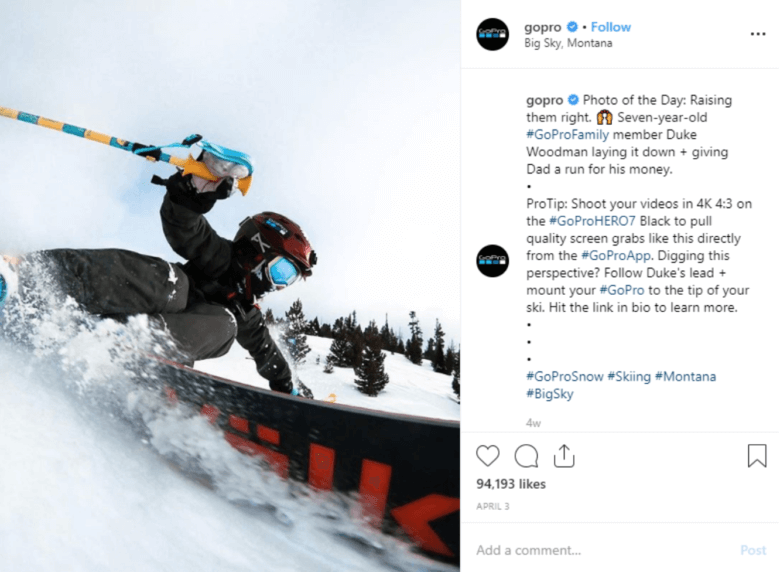 Using visual storytelling is a part of emotional marketing that helps to engage followers on a deeper level. To create a connection with your potential customers, think about making your followers the heroes of your stories.
Instagram inspiration to take away: use storytelling to create an emotional connection with your followers.
Start with the story about your company and the people behind it

Make your customer the hero of your story

Upload a post with multiple photos/videos to tell your story within one post
Followers: 9.3 million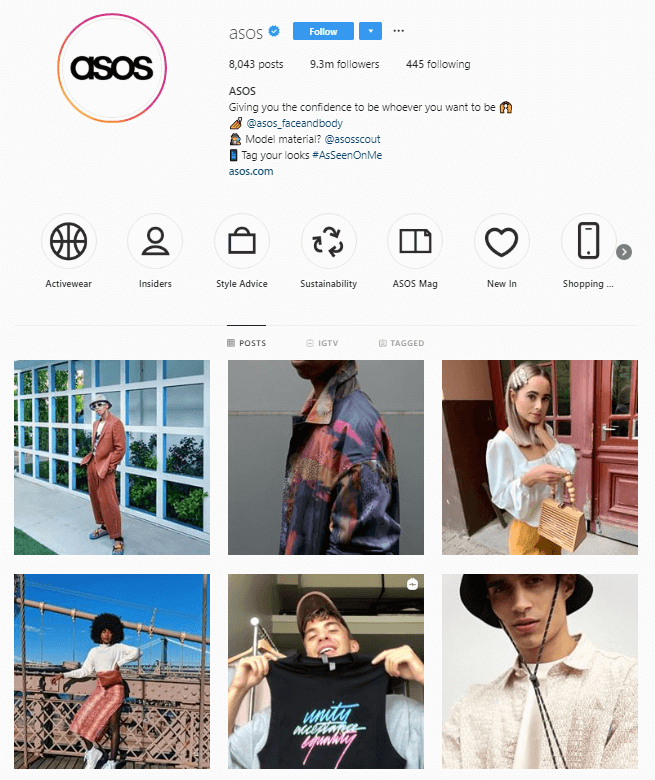 Putting diversity at the heart of marketing campaigns isn't a new concept. Many brands feature models of all sizes, genders, and ages these days, but ASOS has many fans who value the brand's inclusive attitude so it receives even more praise than usual.
In 2020, it's important to seek out alternative ways to communicate with the different individuals in the market. For this reason, ASOS posts images that show off people of all shapes, sizes, sexualities, backgrounds, and genders in a natural way. Plus, these images help potential customers as they can understand better whether featured items can fit them or not, too: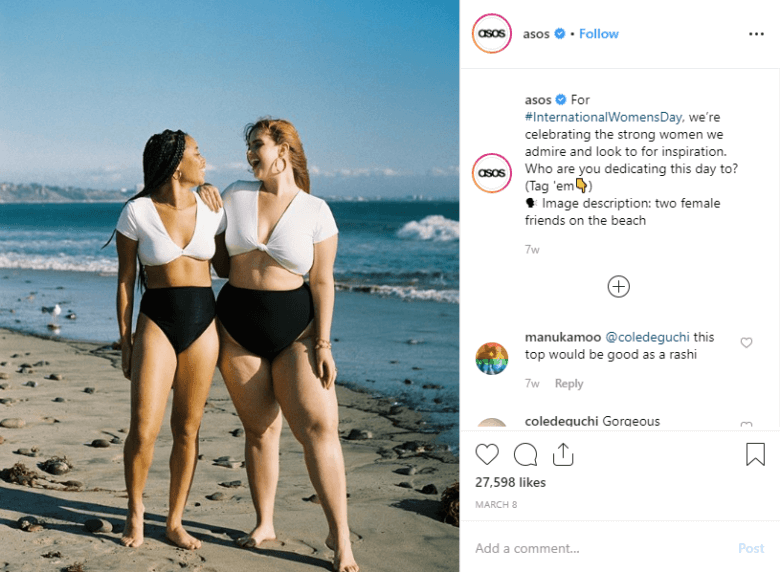 Diversity marketing isn't an option these days if you want to sell your products to a wider audience and keep your customers satisfied.
Instagram inspiration to take away: break down stereotypes to win a wider audience.
Do

market research on social media

to understand your target audience

Invite your Instagram followers to become brand ambassadors

Know your customers' pain points and make them believe in themselves
Followers: 9.1 million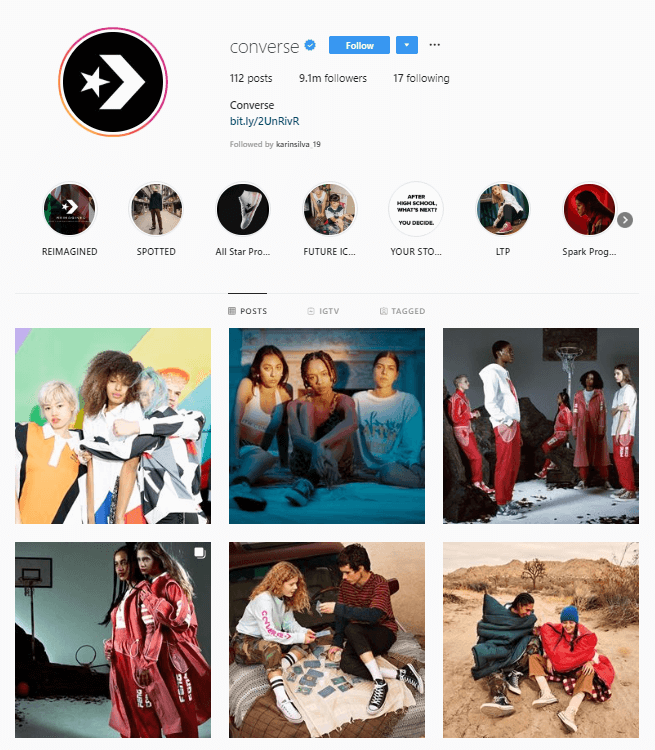 In the digital era, customers are fed up with overly-polished advertising that seems too good to be true. To sell on Instagram, there's no need to do macro product photography. Converse teaches us that your products can still play second fiddle.
The company lays a bet on lifestyle images to sell experiences your clients can get with your product and it pays off: images grab the audience's attention as they show what kind of customer buys the product being sold.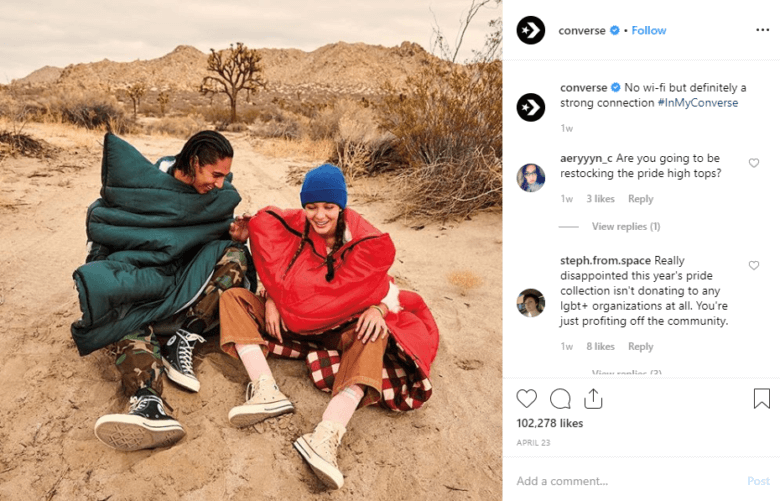 Lifestyle images tell stories and speak directly to your followers, and therefore create an emotional bond with your potential customers.
Instagram inspiration to take away: post lifestyle photos to show how your product would fit customers' needs.
Learn more about your customers' way of living

Rely on UGC to get genuine lifestyle images

Show your product without keeping a focus on it
Followers: 4.1 million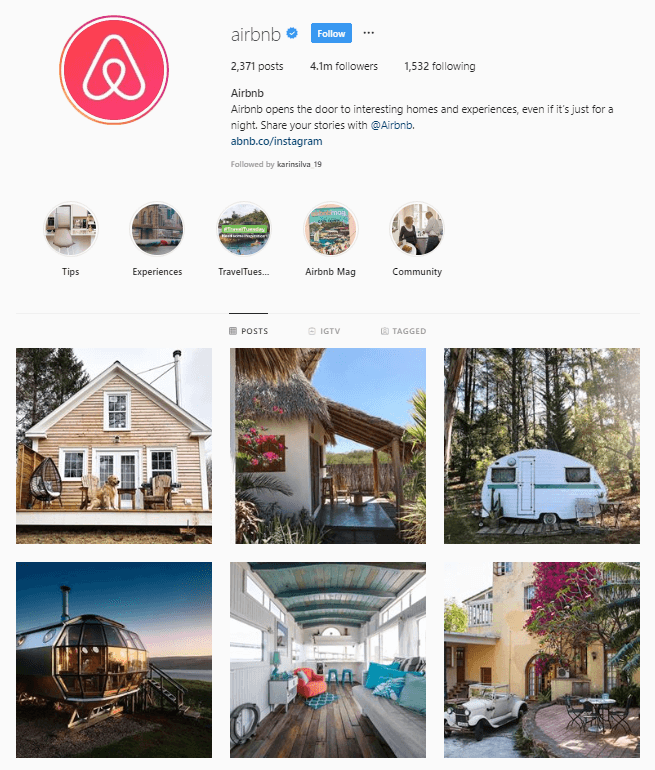 With unique accommodations in more than 34,000 cities and 191 countries, it's hard for Airbnb to show off every single flat on Instagram, so the company is focused on building brand awareness and sparking followers' interest in the service by showcasing magical experiences.
Since the majority of images come straight from travel bloggers or other guests that have used the Airbnb service, Instagram feed looks authentic and posts receive a lot of interactions: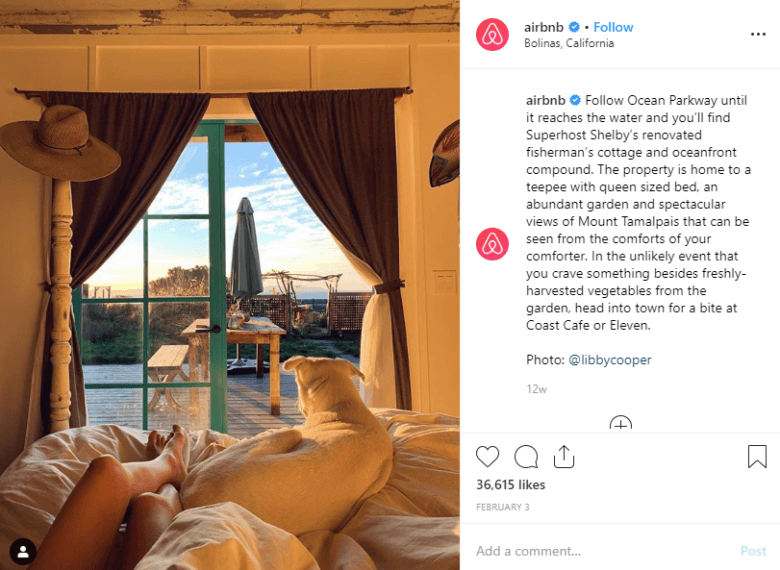 What is more, Airbnb used video carousel ads to run an Instagram ad campaign that resulted in 125m people reach and a 6-point lift in purchase intent in Germany and Australia. In other words, Airbnb's target audience enjoys more authentic travel experiences.
Instagram inspiration to take away: focus on experiences your followers can get with your brand to get more consumers.
Create relevant hashtags to collect customer feedback

Invite customers to reveal the benefits of your product through their eyes

Give featured followers photo credit to encourage others to produce content and increase brand loyalty
Followers: 4.1 million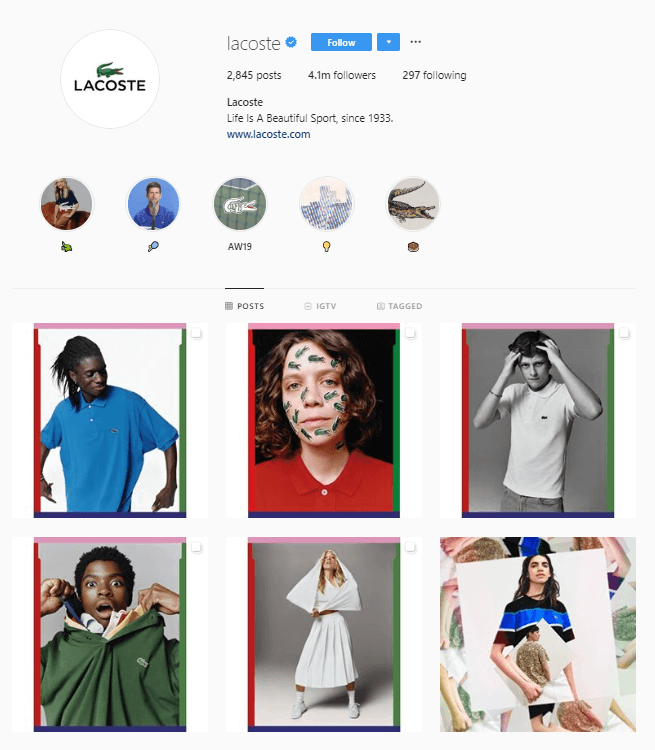 The history of Lacoste dates back to 1933 when the iconic brand was created by the French tennis legend, Rene Lacoste. The company is proud of its history as it proves potential customers the quality of their products. Moreover, Lacoste uses creative methods to combine the history and the present trends to remind followers that their products never go out of style.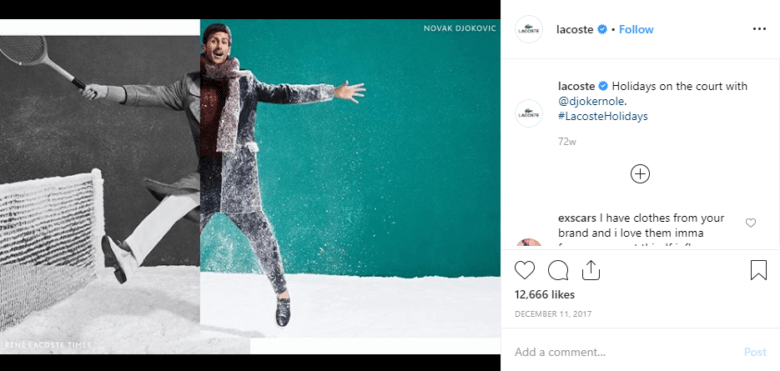 As a company with a long history, Lacoste needs to keep a balance between sticking to its principles and being innovative to attract new customers. Thus, combining the past and present is a great way to achieve business goals.
Instagram inspiration to take away: combine the power of brand history and authenticity to stay more relevant to a new generation of consumers.
Take users behind the scenes to tell more about the history of your brand

Tell your followers what the company stands for

Turn boring stories into interesting ones with creative images
Followers: 3.6 million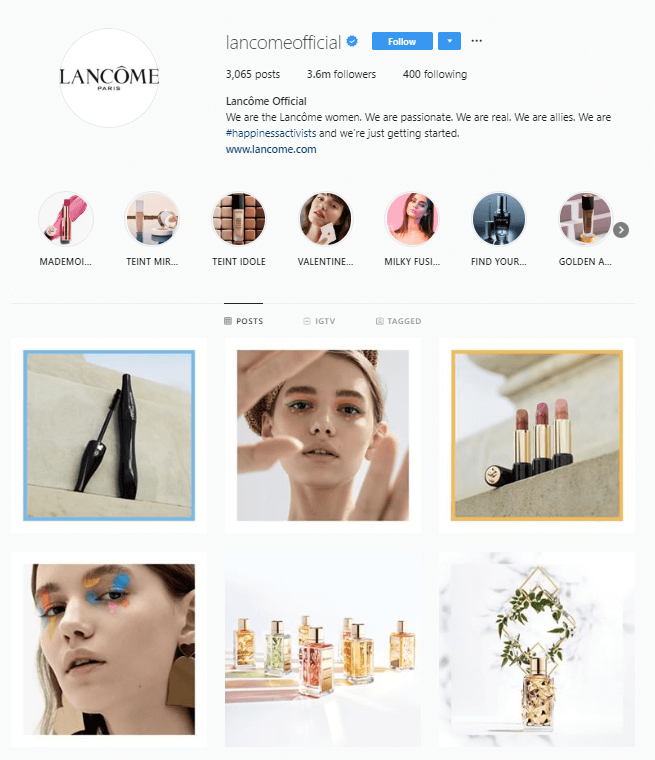 Since Instagram's demographic is primarily female, it's no wonder that the beauty niche is hyper-competitive on the platform. For beauty brands of all sizes, it's important to stay one step ahead of their competitors, so Lancome tries to provide its followers with valuable information about the products' benefits.
In honour of a new product launch, Lancome created a new Instagram Stories Highlight to keep all relevant information about its cult-favourite Teint Idole Ultra Wear Foundation. Once followers are interested in this group of products, it's easy for them to learn more by tapping Stories Highlights – from a variety of shades to influencers' recommendations: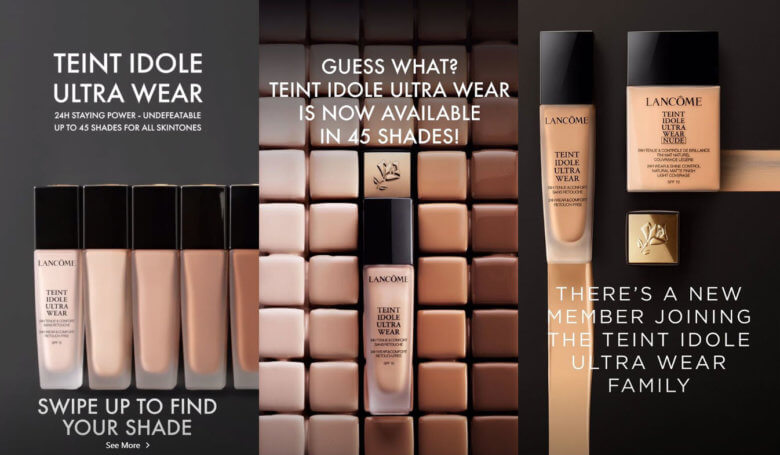 When discovering products on the platform, potential customers can't see, touch, and try out real items before buying. Since brands should showcase products in the way so that followers could buy products sight unseen, writing about your product is a must on Instagram.
Instagram inspiration to take away: explain the benefits of your products to interest your followers.
Focus on how your customers can benefit with your products

Provide followers with relevant and in-depth information on your product

Use the power of

ephemeral content

to cause a buzz around your brand
Followers: 2.5 million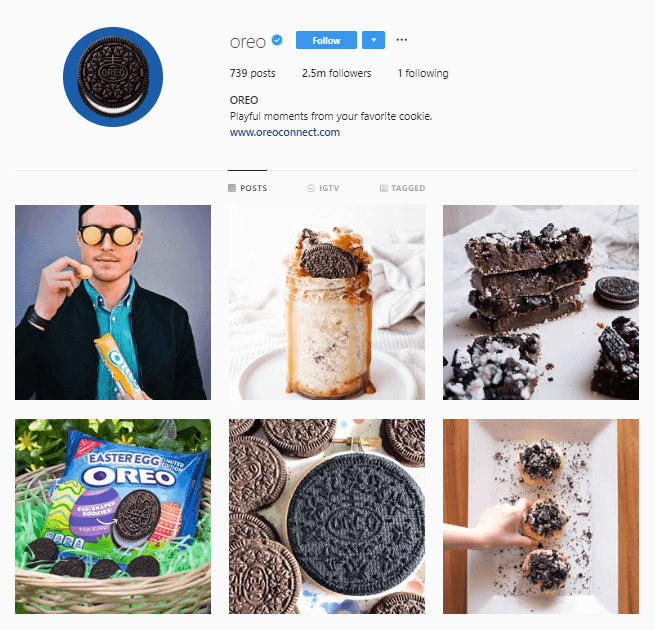 With nothing but cookies as the product, it could be hard for Oreo to cut through the noise on social media. However, the company stays current and comes up with creative ideas to show off its product in a fun and interesting way. As a result, the company produces visually appealing content that attracts attention.
With the buzz around The Game of Thrones (GoT) final season, the brand not only released the limited-edition cookies but also recreated a Game of Thrones intro with 2,750 Oreo cookies in collaboration with HBO and Elastic. As the company leverages Instagram videos and this type of content works well for the audience, it's no wonder that the company has put effort into creating an interactive video: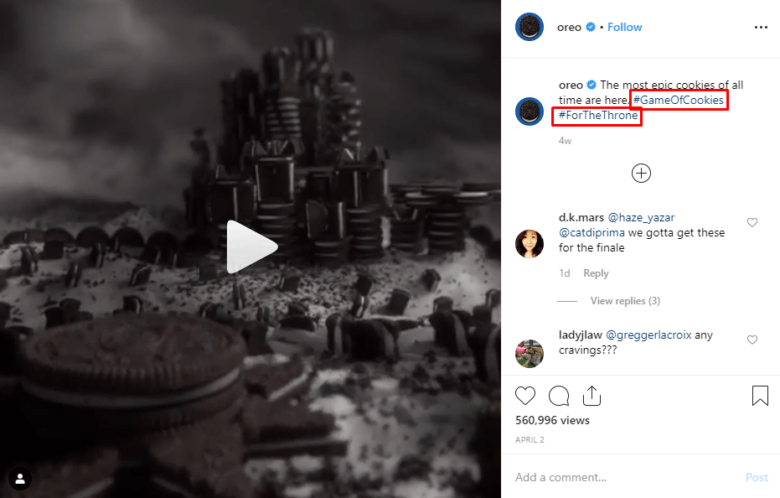 It's no doubt that the company knows how trends work which lead to high user engagement on Instagram, brand awareness, and a solid following.
Instagram inspiration to take away: stay up-to-date with situational marketing to cause a buzz around your product.
Keep an eye on the news to provide a hyper-personalised experience that matters to customers

Produce a high-quality situational post and publish it on time
Followers: 1.3 million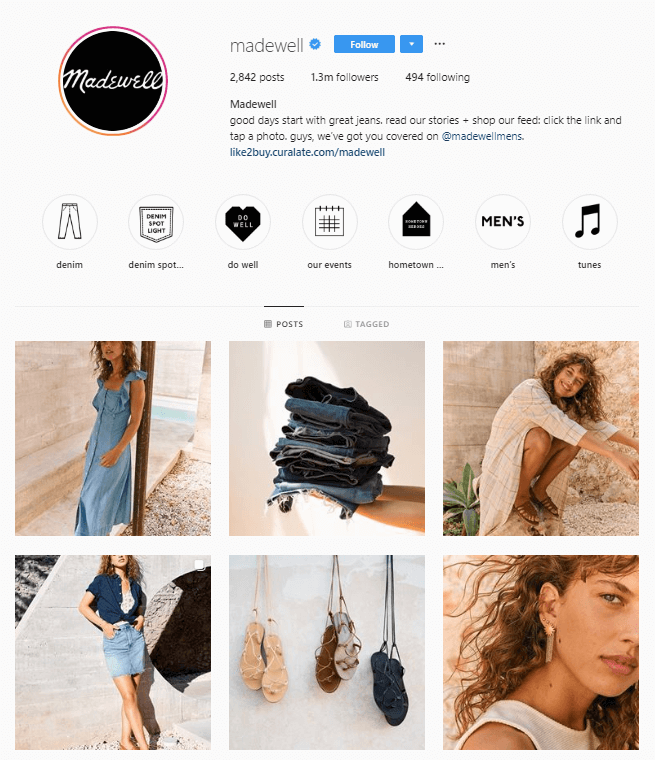 Like any company, MadeWell wants to grow its revenue, so the company has started selling on Instagram to improve the shopping experience for its customers. One thing that makes this brand so eye-catching on the platform is that it's focused on ecommerce optimisation: the easier the buying process is, the more customers buy.
Since Instagram rolls out different business-specific features to promote social shopping, MadeWell makes the most out of these innovations to increase ecommerce sales. From using product tags and product stickers to grouping items in Stories Highlights, the company knows how to convince its followers to buy in-app: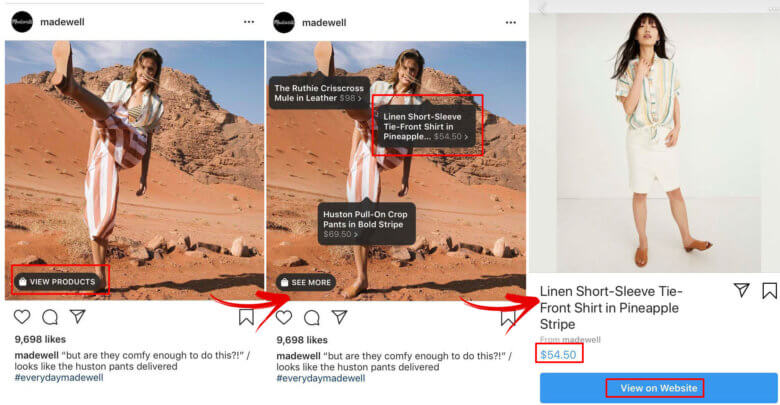 Simply put, MadeWell uses Instagram as another marketplace for selling its goods, and it makes the most out of Instagram features to allow customers to buy without leaving the app.
Instagram inspiration to take away: help your customers buy products in-app with ecommerce optimisation to drive sales.
Optimise your Instagram bio to inform visitors and followers about your brand and products

Show off products on Instagram via newsfeed and Stories

Use product tags and stickers to provide followers with information about the items
Followers: 1.2 million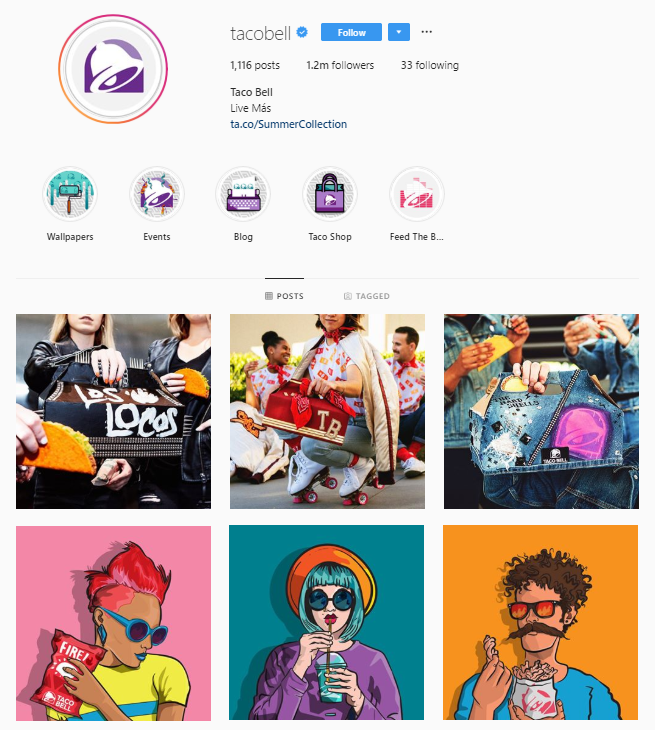 With the rapid growth of Instagram marketing, having an attention-grabbing Instagram feed is a proven way to cut through the noise and attract followers. Just take a look at Taco Bell's account on Instagram: the company has a focus on youth-based demographic, so it combines the sense of humour and creativity to produce eye-catching content that holds followers' attention.
For Taco Bell, the sky's the limit when it comes to creating visuals that show off their products – even the craziest ideas are welcomed. As the company has youth as the target audience, they love such innovations as these images are memorable.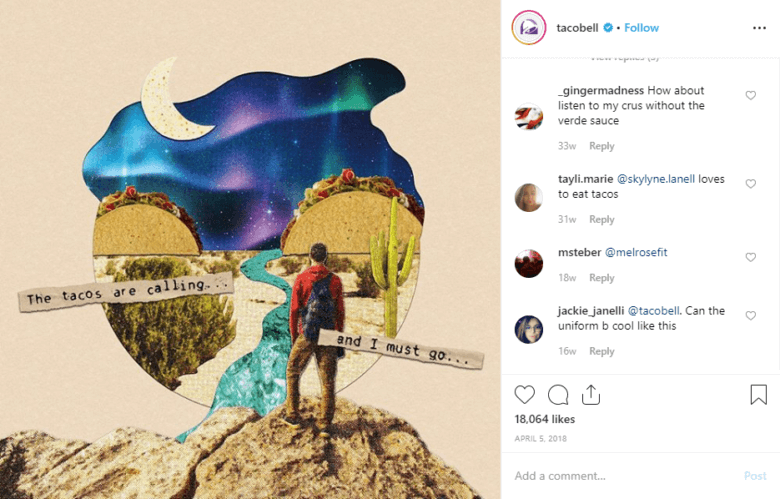 The company brilliantly uses Instagram to promote its products with the help of creative visuals. Planning the feed in advance, the company has a consistent feed that sinks in the mind of its target audience. But if you're new to Instagram marketing, you can always rely on social media templates to create attractive images.
Instagram inspiration to take away: post creative images to grab and hold your audience's attention.
Followers: 431k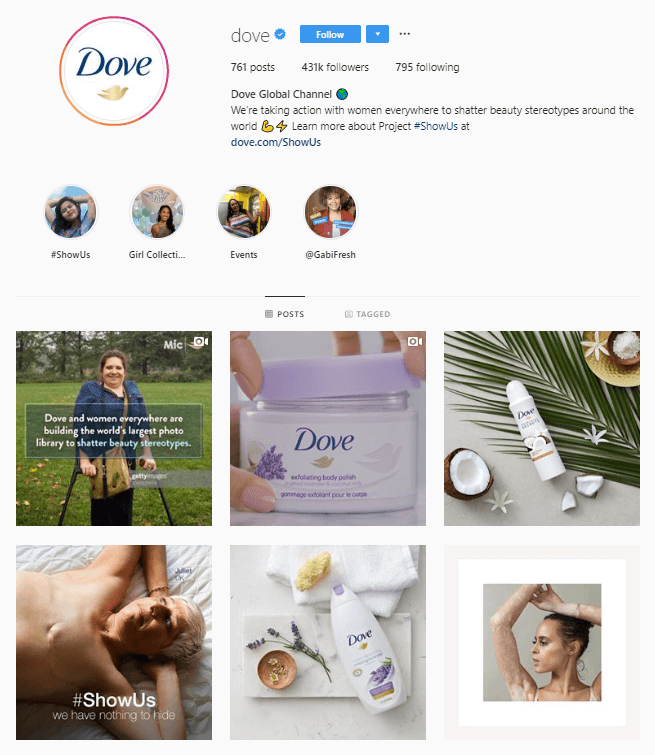 For those that can take advantage of diversity marketing, here's another successful example by Dove. The company believes that beauty comes in all shapes and sizes and its marketing strategy is aimed at helping female consumers improve self-esteem. Creating a special hashtag #RealBeauty, Dove spreads its beauty diversity message on Instagram. Obviously, this tactic increases brand trust and loyalty.
Let's take a look at Dove's ShowUs campaign. After doing research, the company has found that 70% of women still don't feel represented by everyday images in the media, so Dove runs a campaign that encourages females to break beauty stereotypes and share genuine images of themselves.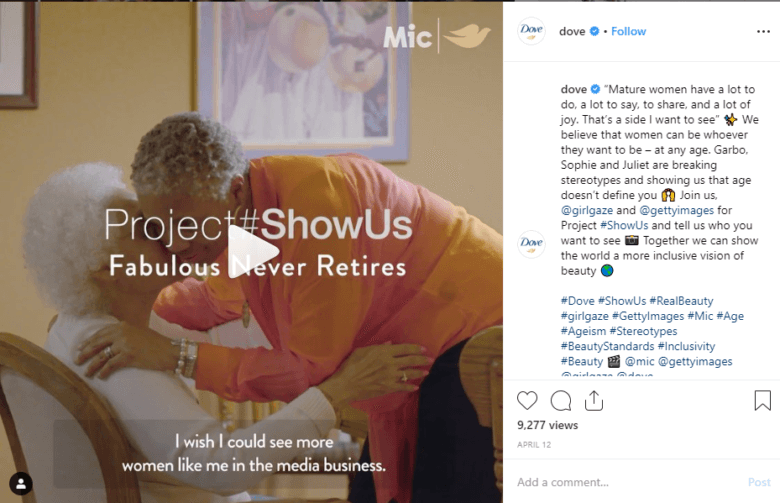 Instead of promoting its products, Dove helps its customers solve their pain points by promoting the idea of diversity. As a result, people feel valued and connected, so they trust the brand.
Instagram inspiration to take away: develop a diversity marketing strategy to reach more potential consumers.
Put your customers first

Do research to learn more about your new market groups

Listen to your followers to understand their pain points
Followers: 235k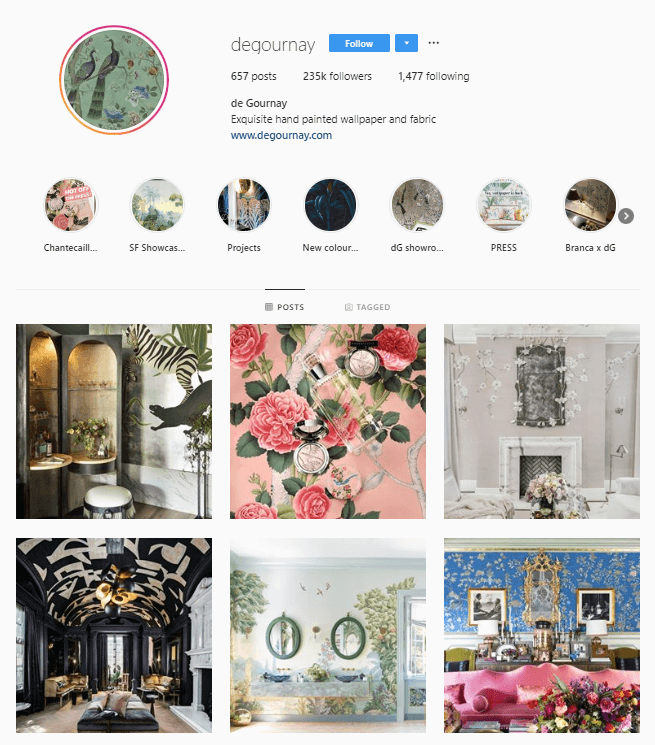 Instagram marketing isn't just about promoting beauty products, clothes, and jewellery; it's also a good marketplace to target your niche audience. What about selling hand-painted wallpapers on Instagram? With the right visual strategy, De Gournay knows how to promote the world's most luxurious hand- painted wallpapers, fabrics, and porcelain.
Showing off wallpapers from different angles on Instagram isn't enough to sell this product. With the proper visual strategy, Instagram can sell the lifestyle instead of the product itself, so De Gournay sticks to this idea. From sharing interior design options to posting featured content, the company is focused on using lifestyle content that shows potential customers what they can get with the brand and encourages the use of the product.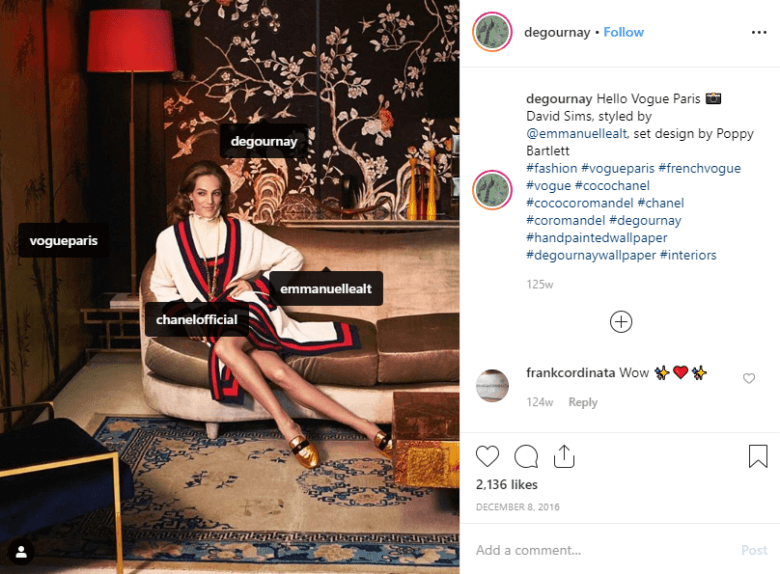 The company uses product placement technique to show off its products on Instagram without being too salesy. Since the majority of people are visually-oriented, beautiful images catch their attention and they become interested in featured items.
Instagram inspiration to take away: use a strong visual presentation to attract and engage the niche audience.
Analyse your niche customers and their lifestyle priorities

Incorporate lifestyle content into your Instagram marketing strategy

Invest in creating a strong visual brand identity
Followers: 96.2k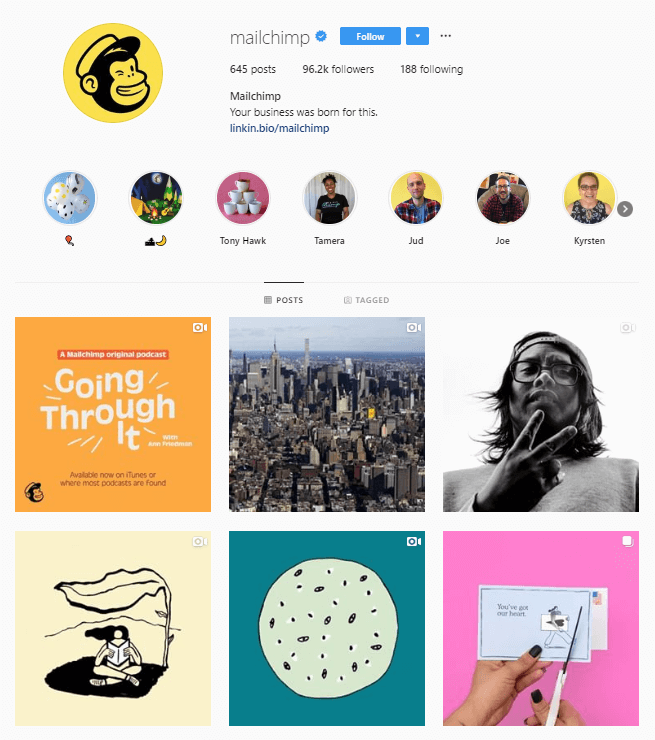 When a company is focused on selling products and services to other businesses, Instagram isn't the most obvious marketing tool to promote a business. However, MailChimp is a good example of how to promote your product, no matter who your target audience is. The company is known for the DIY email solutions for businesses, but it uses Instagram to build brand awareness, interact with customers, and increase sales.
What makes MailChimp so popular? The company knows that there's a human behind every business, so they are focused on satisfying customers' needs even though they are a B2B company. For example, MailChimp explains to its followers the benefits of the product and shows how it helps to save time in a funny and creative way.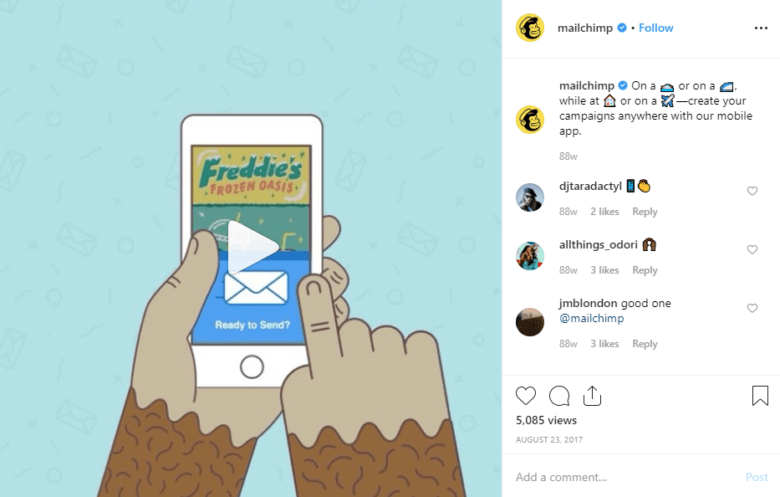 With the help of a short video, MailChimp educates its followers, helping its customers make the right purchase decision to save their time, effort, and money. The bottom line? MailChimp proves that Instagram is right for B2B companies to get business results.
Instagram inspiration to take away: explain to followers how to solve their pain points to promote even B2B products.
Bring the human touch

Think about your customers and their problems

Provide followers with educational content
In a Word
With a solid number of users, Instagram marketing isn't an option these days for brands of all sizes and industries. But if you're not a world-famous brand, attracting and keeping followers engaged can be hard. Thus, companies need to learn from large companies that have achieved success on the platform and boost Instagram inspiration to stay competitive.
So, are you ready to implement some of the above-mentioned strategies to make your Instagram account more popular?
---
Guest Author: Hugh Beaulac
Social Media Manager and Content Strategist—MC2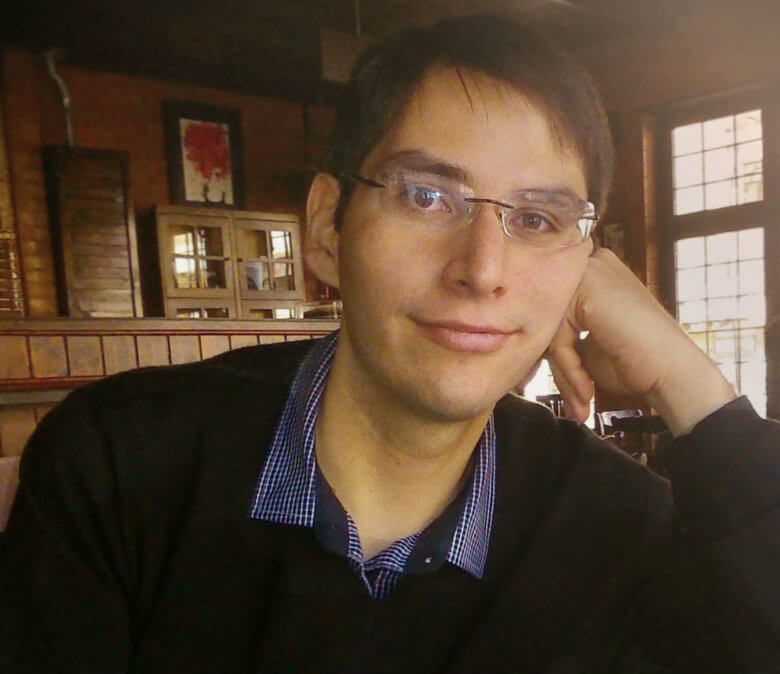 With over 6 years of digital marketing experience, Hugh Beaulac is passionate about social media marketing and blogging, so he helps SMBs grow online, runs MC2 blog, and writes for top-notch websites to share his marketing tips. Twitter: @HughBeaulac