Here's something we all can agree on:
Instagram has turned into a powerful sales machine, and most marketing specialists wrestle with a question on what content strategy to choose to skyrocket engagement and conversion there.
The problem is that competition is crazy:
There are around 25 million businesses on Instagram today.

Over two million advertisers use the platform to drive business results.

With over a billion Instagram users, 90% of whom follow business pages there, it comes close to impossible to engage and sell to them.
With that in mind, it's important to be super creative and far-sighted to reach, interact, and convince the Instagram audience to choose your brand. It also stands to reason that you want to get inspired and learn from the best brands on Instagram, as well as try implementing the content strategies that work for them.
We talked about the 15 best brands for your Instagram inspiration before. But now it's time to bring other heavyweights aboard: Here go the 30 best brands killing it on Instagram, across six niches. Check them out, get motivated, implement similar working strategies, and get ready to analyze the results.
Contents:
Marketing Instagram accounts

Design Instagram accounts

Food brands on Instagram

Fitness brands on Instagram

Travel brands on Instagram

Beauty & fashion brands on Instagram
Best marketing Instagram accounts
Followers: 497.3k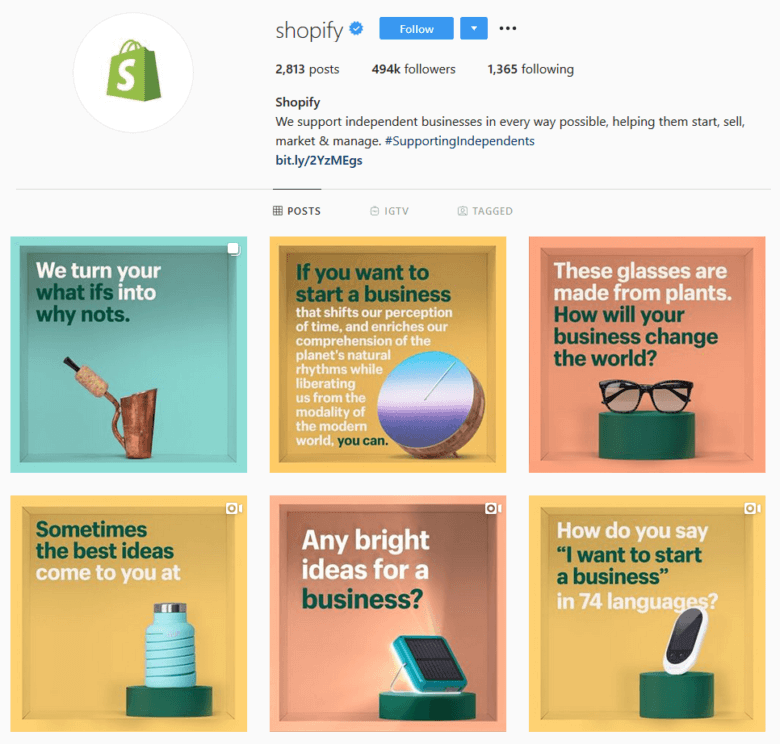 Shopify is an e-commerce platform allowing anyone to start an online store, manage, and market it. With over 1.7 million customers onboard, and close to 6000 apps in the Shopify app store, this is also the biggest and the most customizable platform in this space.
They are among the top brands on Instagram, with almost 500k engaged followers. What they do is post photos and personal stories of their customers, encouraging conversation by asking questions, and sharing video content with "how" and "why" motivating lifehacks.
What strategies to learn here:
Know your audience's pain points and appeal to them in your content.

Use narrative and

expository writing

(storytelling) techniques in Instagram captions to engage users.

Post creative and well-designed video content when appropriate
Followers: 302k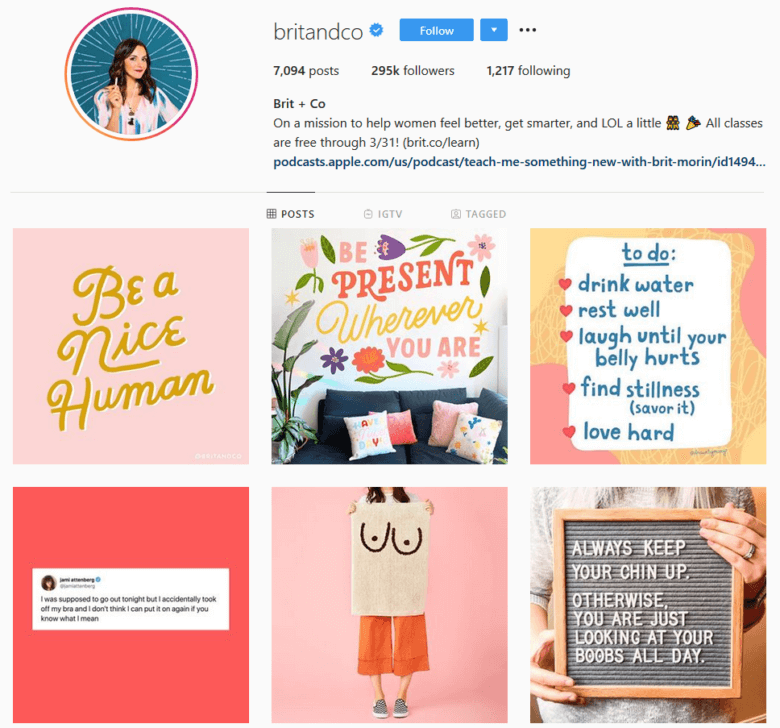 Brit + Co is the American digital media company positioning themselves as leaders in craft, do-it-yourself content, and everything creative. With 300k+ followers on Instagram, it's clear they have successfully tapped into their target audience. It's enough to take a quick look at their feed to see what fun, colorful, and trendy content they produce.
What you can learn from their Instagram account:
Color palettes matter. You need to choose brand colors and stay consistent with them when posting your content.

Plan and design content in advance for your side-by-side images to look aesthetically pleasing all together.

Try using text images such as sticky notes, quotes, etc. This type of content, as well as posting Twitter quotes, is one of the top

Instagram content trends

this year.
Followers: 105.2k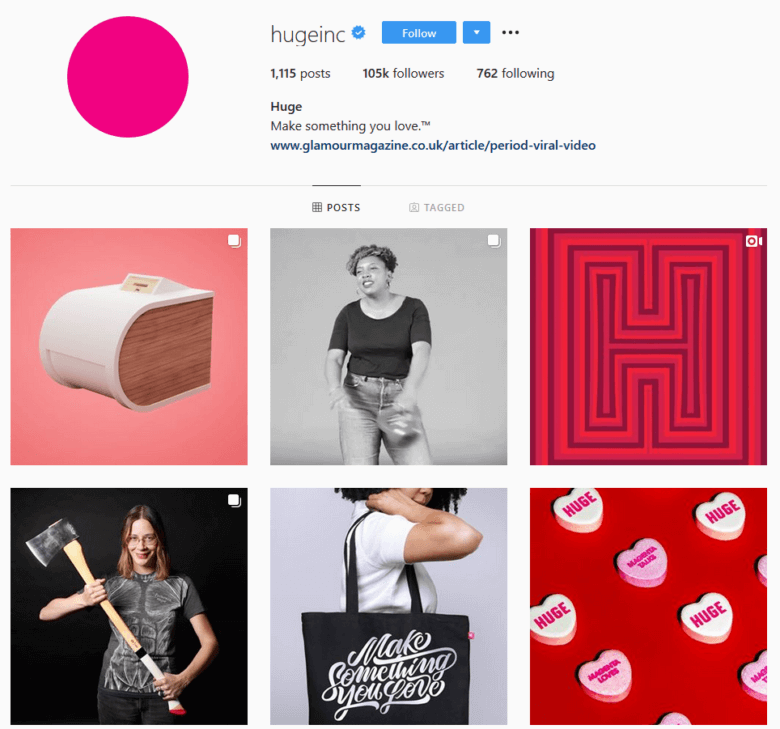 A digital agency from New York, Huge Inc. is about digital marketing, design, and strategy. For today, they boast 105k Instagram followers, and this number is continuously growing thanks to the appealing content they share on their feed.
What do they post? It's all about high-quality visual content, graphic design inspiration, and funny pics and captions about their daily office antics.
What to learn from them:
Authenticity is the key: Show users that your brand is real, and there are real people behind the curtains.
Followers: 75.4k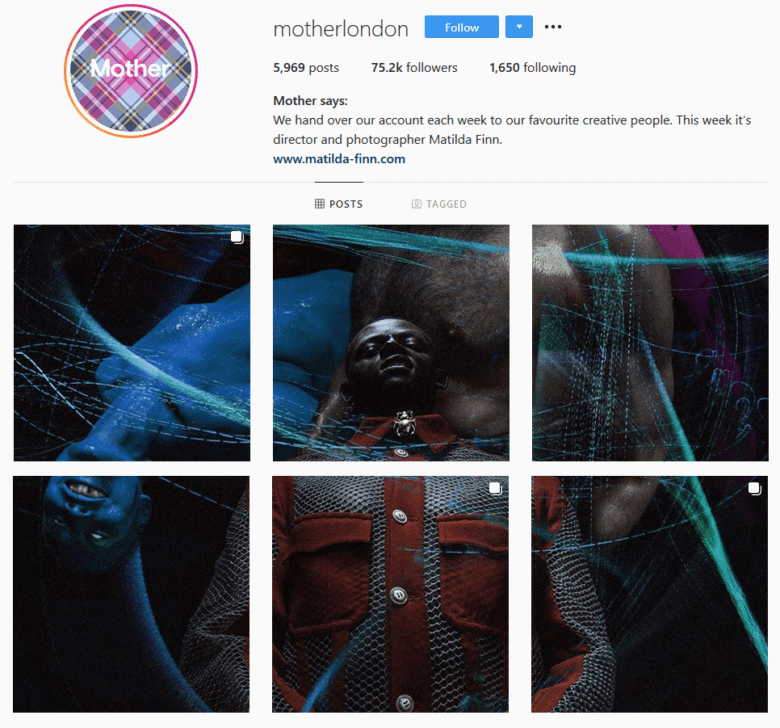 When looking at this brand's Instagram feed, you understand who they are right away. Thanks to their unique approach to content, Mother London has quickly joined the team of other brands killing it on Instagram. They are the independent creative agency network, showcasing their projects as well as other creatives' design perspectives.
Lessons to learn:
Sharing is caring. Tag and promote your partners whenever possible to engage a broader audience to your Instagram page.

Think of a

creative way to design your Instagram feed

. It grabs attention and stirs up interest in your account.
Followers: 19k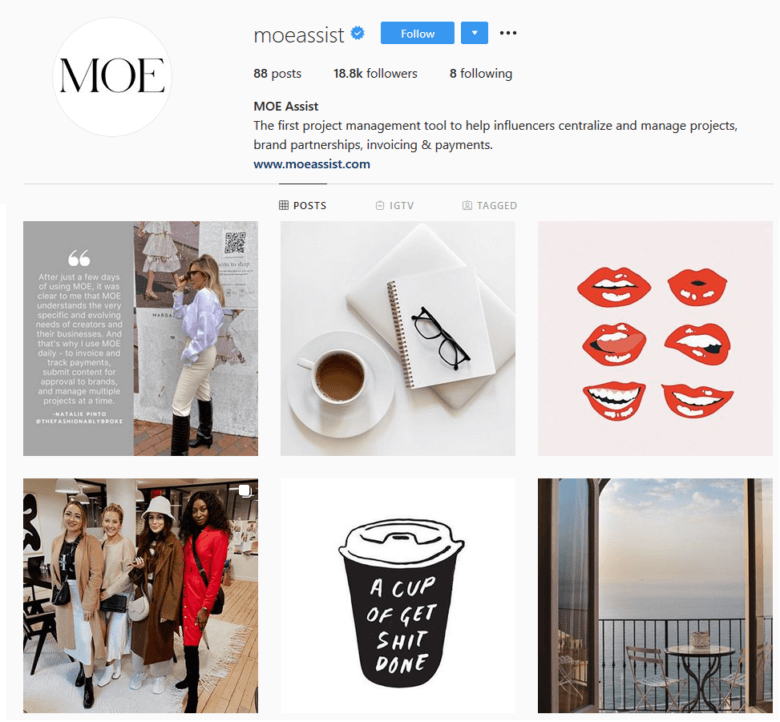 This one is the smallest brand on the list, but it doesn't make them less creative on Instagram than their bigger competitors. If you have a small business, please pay attention to this account for inspiration and "stealing" some creative content ideas.
MOE Assist is a project management tool for influencers to manage their projects and partnerships. With around 20k followers on Instagram, the brand posts text images with inspirational quotes, photos of meetings with their clients, and free-hand drawings that catch the eye of Instagram users.
What to learn here:
Talk to your audience and ask them for feedback.

Publish original content, which is designed after the latest trends and specifically for your Instagram page.
Best design brands on Instagram
Followers: 2.2 million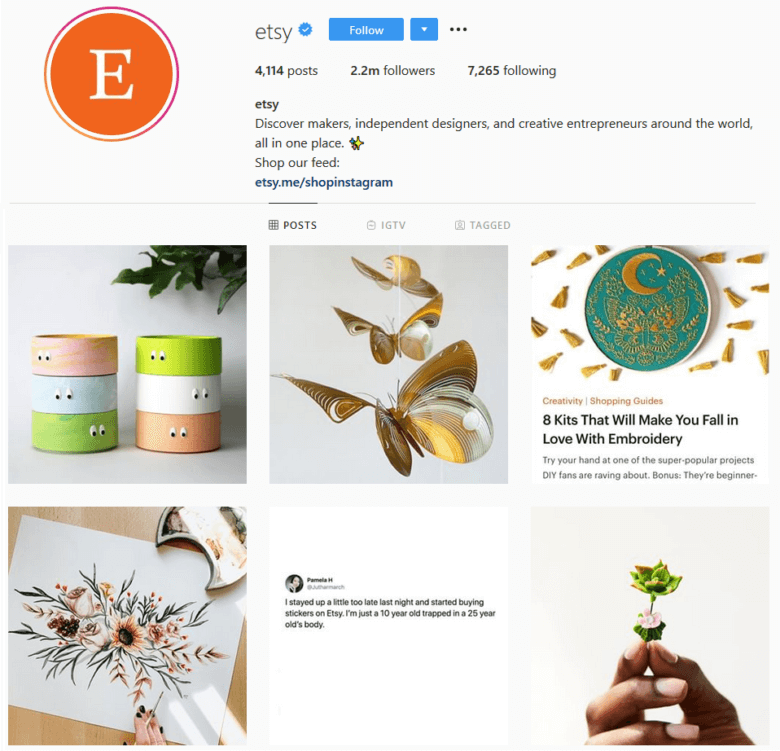 Etsy is the brand selling handmade and vintage items, so it stands to reason their Instagram account showcases the work of creative, independent designers. With 2.2 million followers, the brand focuses its content strategy on evoking a sensation of authenticity and warmth in users.
Any tips here?
Consider the color psychology: Focus on a palette that will communicate your brand character and message.

Combine visual and text content to evoke emotions.
Followers: 2.2 million
This furniture brand helps customers "express style through modern design." With 2.2 million active followers on Instagram, they seem to do it right, do you agree? Their feed is full of bright and high-quality images, UGC, and useful how-to posts encouraging users to ask questions about home design.
So, what to learn from these guys:
Publish high-quality images only.

Ask followers for UGC and share it with tags and descriptions.

Make the most out of

Instagram Stories

: how-to videos, swipe-up links, vertical videos for complex topics, etc. Also, make sure to create branded covers for your Stories.
Followers: 2.1 million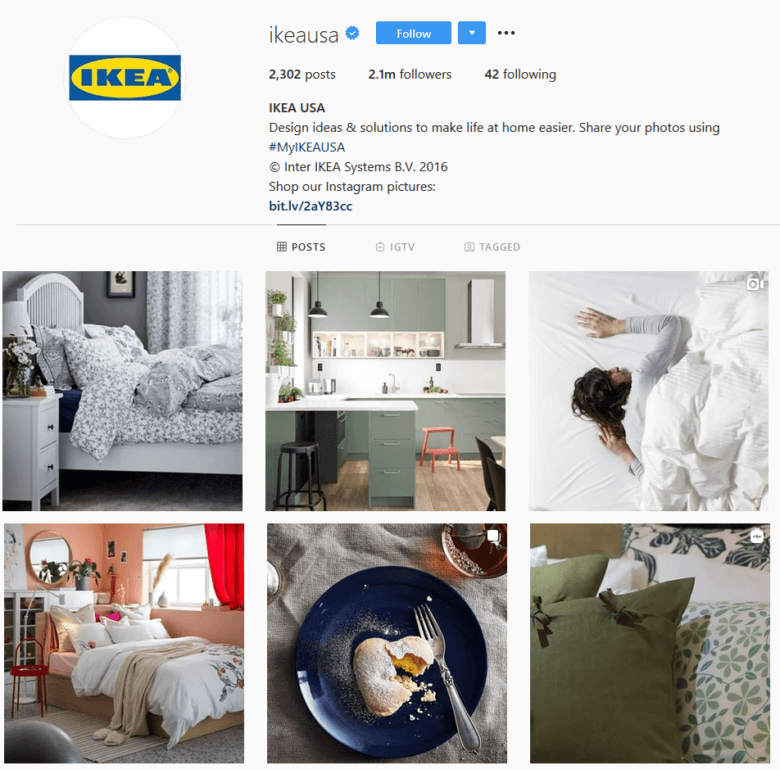 Raise your hand, those who never heard about this Swedish furniture company! Their Instagram account shows off products, teaches users how to assemble them, and invites followers to shop IKEA's photos, therefore letting them know where to buy the product they've liked.
The link in their Instagram bio leads to a landing page with all Instagram photos, each linking to the product page on the website. It allows the brand to streamline the buying process by giving the audience an option to know exactly where they can buy the product in the pictures: They click the image and go directly to the corresponding website page, with no need to search!
Strategies to "steal" here?
Be creative with links in your Instagram bio, and use corresponding

social media tools

to assist you with that. Instruments like Curalate, Linktree, or Leadpages can help you repeat the trick of IKEA or add a few links to your bio, not just one.
Followers: 885.2k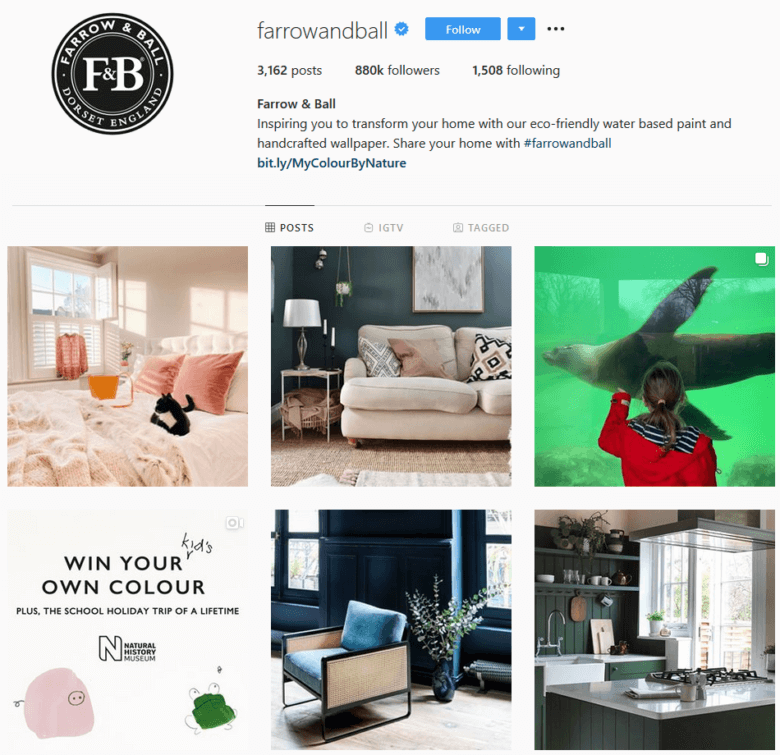 This brand promotes eco-friendly design, encouraging the audience to use safe paints and handcrafted wallpapers in homes. The number of their Instagram followers is fast-growing, suggesting they've chosen the right strategy for social media marketing. They post user-generated content of high-quality, sharing design tricks for readers to implement at home.
What to learn from them:
Create content around topics that cover your customers' pain points.

Encourage followers to produce UGC and publish them with tags so they're easier for you to find.

Share useful content, with tips and hacks for your audience to apply in real life.
Followers: 571.2k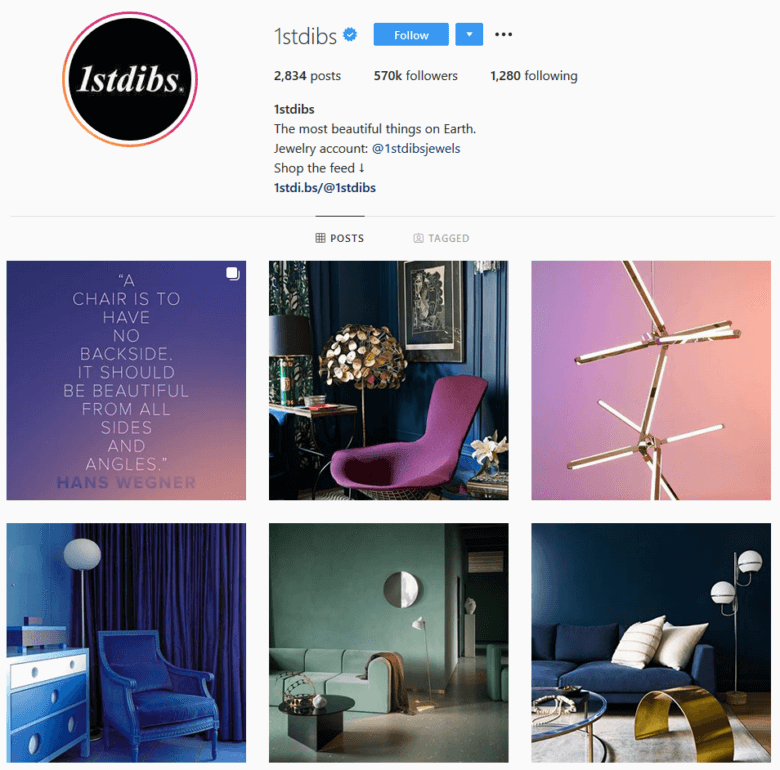 It's the brand of stylish furniture and everything related to interior design. As well as IKEA and Etsy, they invite followers to "shop the feed" and don't link to their website in the Instagram bio. One more creative trick they use for designing the feed is that they post photos by color, creating a rainbow effect on the page.
Tips to follow here:
Feature your products but don't focus on their direct promotion on Instagram.

Publish image carousels to tell stories within one post.
Best food brands on Instagram
Followers: 1 million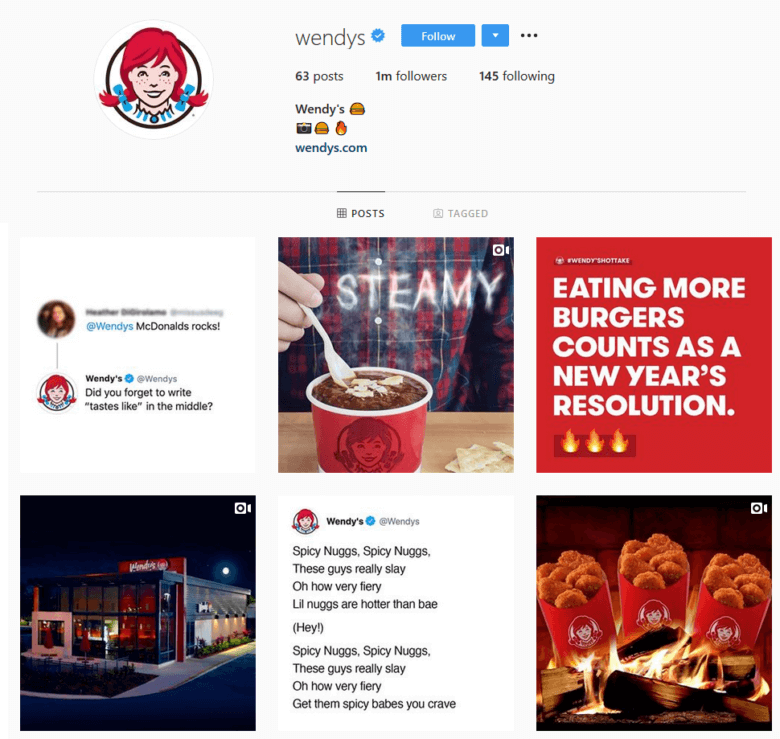 No matter how many lists of top Instagram brands you check, you'll find Wendy's in most of them. A million users follow this page for its entertaining content and creative food layouts in the feed. The brand is open to trends and experiments, so they emphasize color, witty texts, and food as art in their account.
Anything you can "steal" here?
Add humor to your content, but stay relevant to your niche.

Try positioning your product in unusual ways: create art, incorporate it in videos, etc. In other words, think outside of the box.

Share user-generated content with your comments in the feed. Post Twitter quotes mentioning your brand, for example.
Followers: 945.6k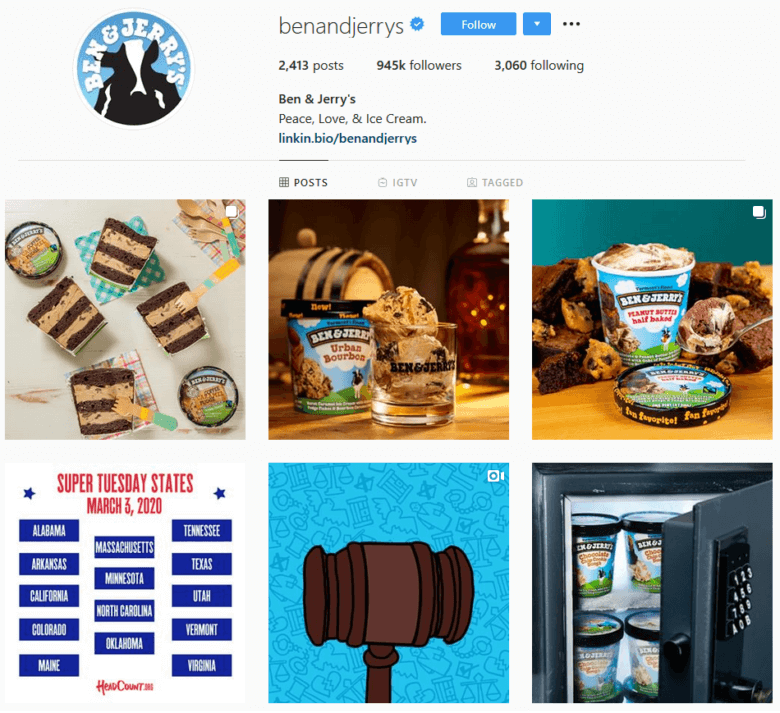 As well as Wendy's, Ben & Jerry's focus on entertaining content in their Instagram account. Funny captions, clever names for products, creative images of their ice cream in extraordinary scenery — all this works to wow users and engage them to crave more.
What to learn from this food brand on Instagram:
Make sure to produce and publish eye-catching images.

If you choose writing short captions, make them witty and on point.
Followers: 693.2k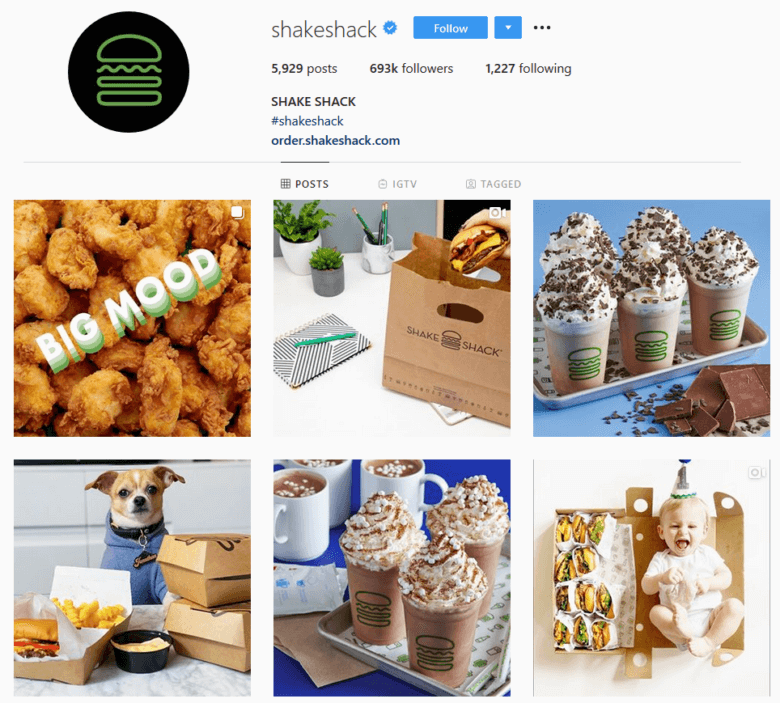 This brand's killing it on Instagram with short but fun and punchy captions. With around 700k followers, they post tons of user-generated pictures, encouraging customers to share their photos on Instagram to get featured on the page. What makes SHAKE SHACK's account cuter and even more engaging is… puppies.
What to learn from them:
Create a strong visual brand identity.

Analyze your audience's lifestyle priorities and incorporate them into

your marketing strategy

.
Followers: 635.1k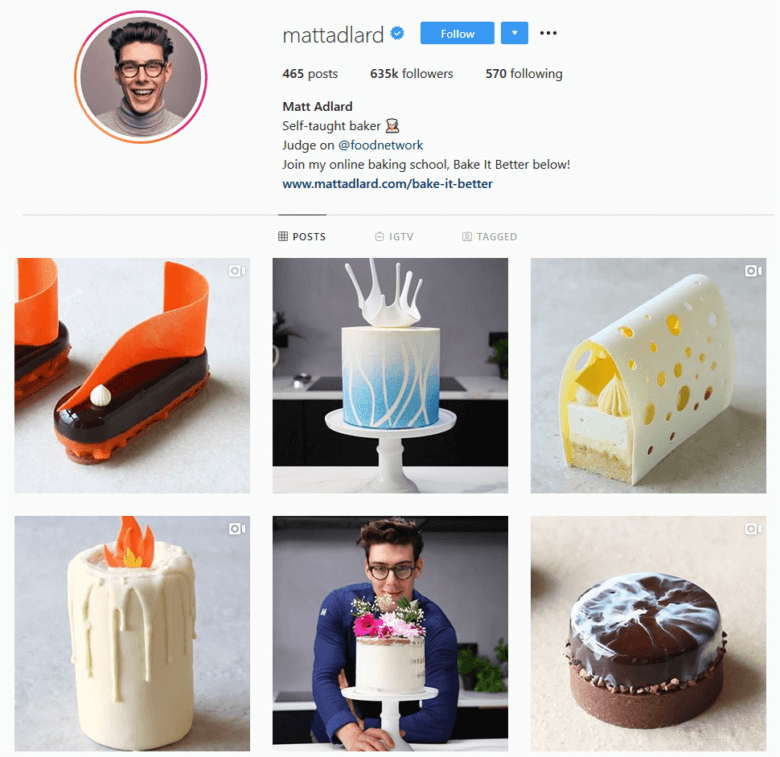 Okay, and here goes the example of a successful personal brand on Instagram. Matt Adlard is a baking influencer who creates beautiful desserts and shares videos of his creations with 635k followers. Getting the most out of Instagram Stories, Matt documents the process of food creation with the recipes for users to try at home.
Another content strategy he implements is storytelling. His Instagram captions are often long-form, telling some personal stories of both success and failures, with life lessons to learn.
Anything to learn from Matt?
Share your behind-the-scenes look. Be open-minded and honest to connect with your audience and humanize your brand.

Use storytelling techniques in Instagram captions. Whenever appropriate, make your customers the hero of your stories.
Followers: 62.7k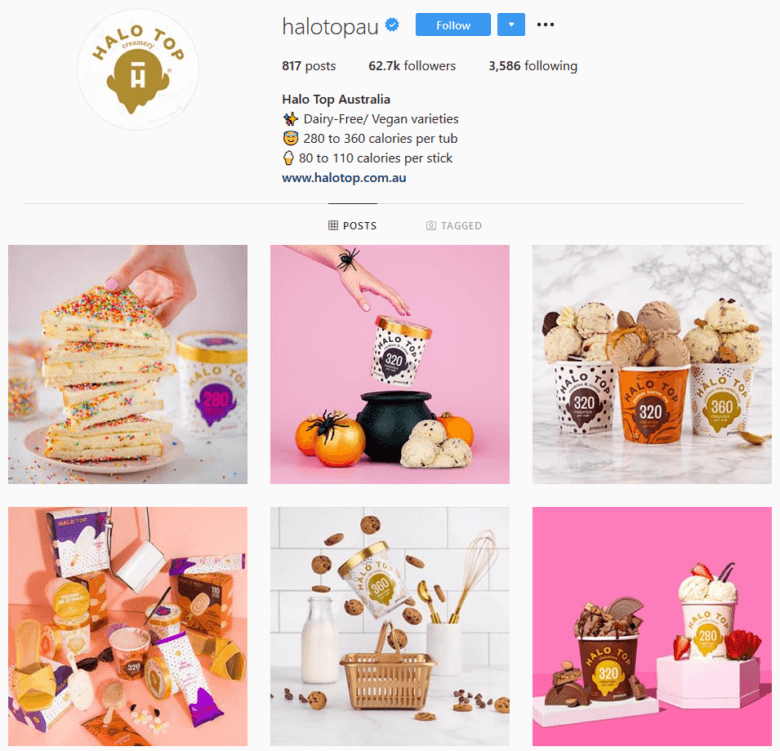 This Australian brand of vegan desserts has grown to a community of 63k engaged followers, and it seems they aren't going to stop here. Their account is about visually pleasing photo design, playing with colors, textures, and shape, and writing short but punchy captions that motivate users to like and comment.
It's clear that they do a big job of planning and creating their Instagram visuals. All this works for building a strong brand identity and engaging users who come to Instagram for beautiful and "yummy" content.
Content tips to take away:
Focus on content quality.

Plan your Instagram content

and preview your feed to analyze what it will look like after publishing.

Use strong visual presentation with

logos

, color schemes, slogans, etc. to attract a niche audience.
Plan & schedule social media ahead of time.
> Video, gallery & image posts
> Calendar, feed & grid preview
> Instagram, Facebook & Twitter
Best fitness brands on Instagram
Followers: 5.2 million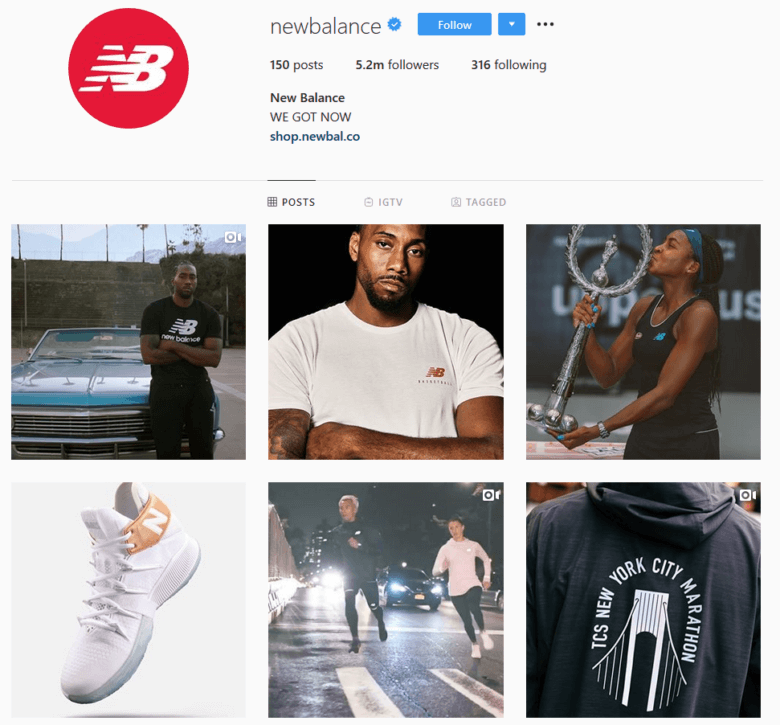 If you ask, "What brand has the most followers on Instagram," it will be Nike that holds the palm of victory. It's on every list of top brands on Instagram, and we wrote about it already. So let's focus on other successful fellows in this niche: New Balance takes the second place in the top fitness brands, sharing inspiring content for followers to stay active and get motivated to win.
What to learn from them:
Create the content on topics covering your customers' pain points.

Evoke emotions.

Launch an IGTV channel with long-form videos that will be valuable to your audience.
Followers: 3.2 million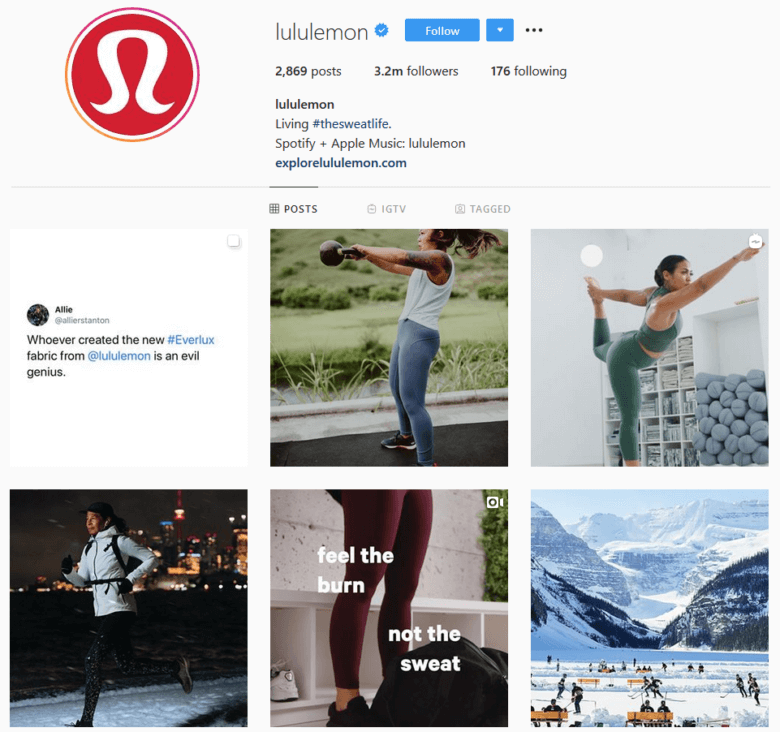 Focused on fitness and life fun, Lululemon succeeds on Instagram thanks to their powerful brand positioning. Their feed is about motivation rather than direct product selling: With #thesweatlife hashtag, the brand asks the community to tag their workouts and then shares these images of people on the go. Minimalistic photos demonstrating someone using the product in a lifestyle context is the trick we all know as "to sell without selling."
The lessons to take away:
Collaborate with influencers and encourage followers to produce UGC images.

Create hashtags

to build a community around it and collect customer feedback.
Followers: 2.3 million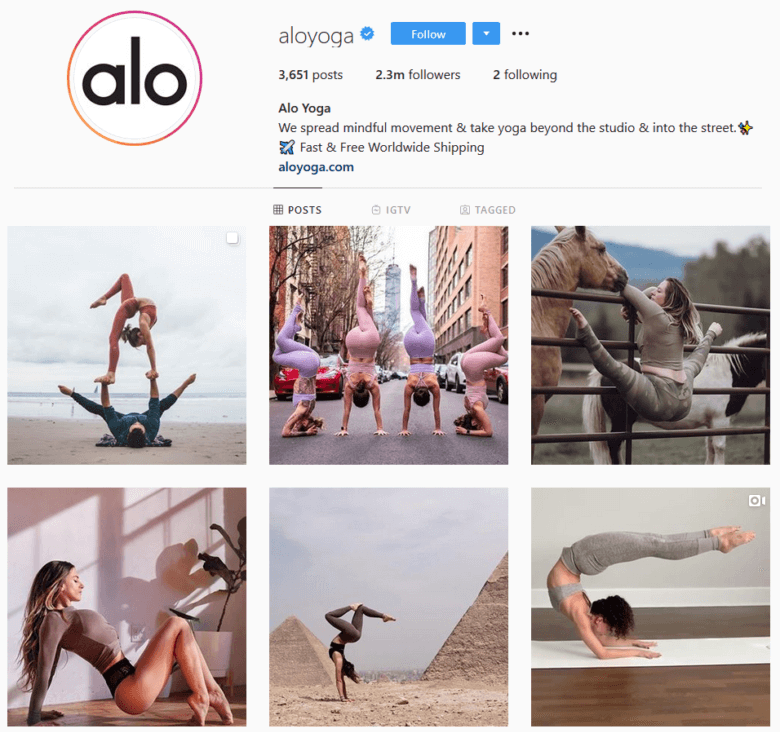 This brand of yoga clothes knows how to use Instagram for business. With 2.3 million followers and growing, they focus on posting beautiful photos of people doing yoga, tagging influencers wearing their product, and hiring professional yogis to teach their audience.
Any tricks to take away?
Collaborate with influencers.

Tag partners to cover a broader audience.

Share educational content with followers, helping them learn from you.
Followers: 1 million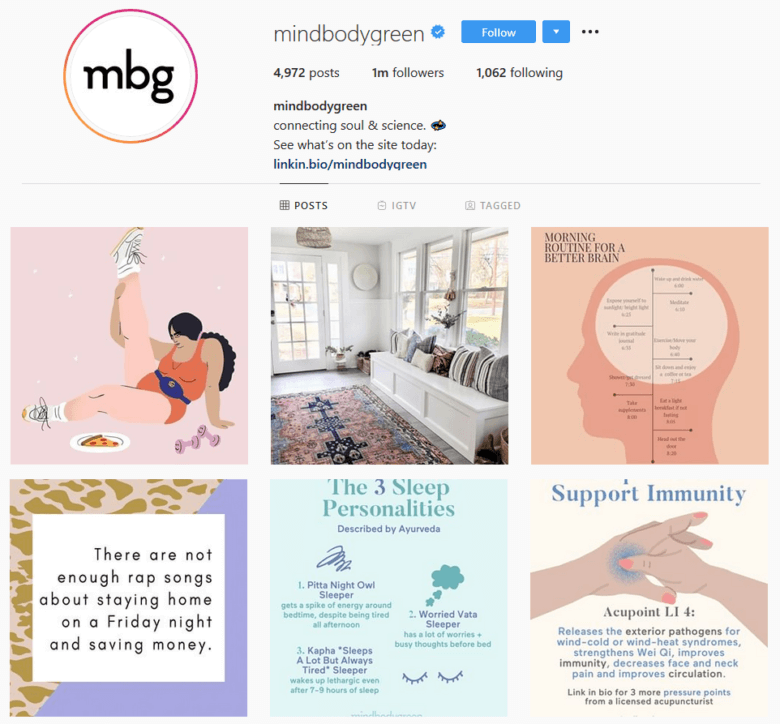 The Instagram account of this digital health and wellness brand warrants its name: They focus on helping their million followers live their best lives. Warm and calm colors, motivational quotes, infographics with actionable tips — all this works the room, engaging and educating the audience.
What to learn from Mindbodygreen:
Combine text and visual content for better engagement.

Focus on the benefits users can get from your content.

Stick to one color palette and filter.

Bring the human touch.
Followers: 863.4k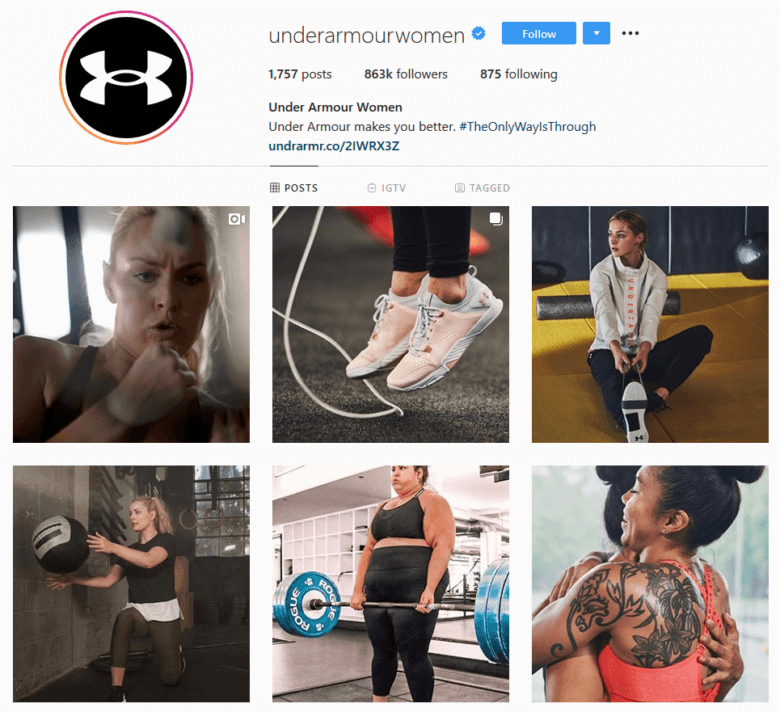 This brand's marketing team knows they work in a super-competitive market, so they focus on the content evoking emotions and intrinsic motivation rather than demonstrating their product directly. In other words, they attract followers by using emotional triggers that keep people engaged and influence their decision-making.
What to learn from them:
Produce and share content appealing to customers' pain points.

Feature your product with no focus on it.

Sell emotions and dreams, not goods.
Best travel brands on Instagram
Followers: 37.3 million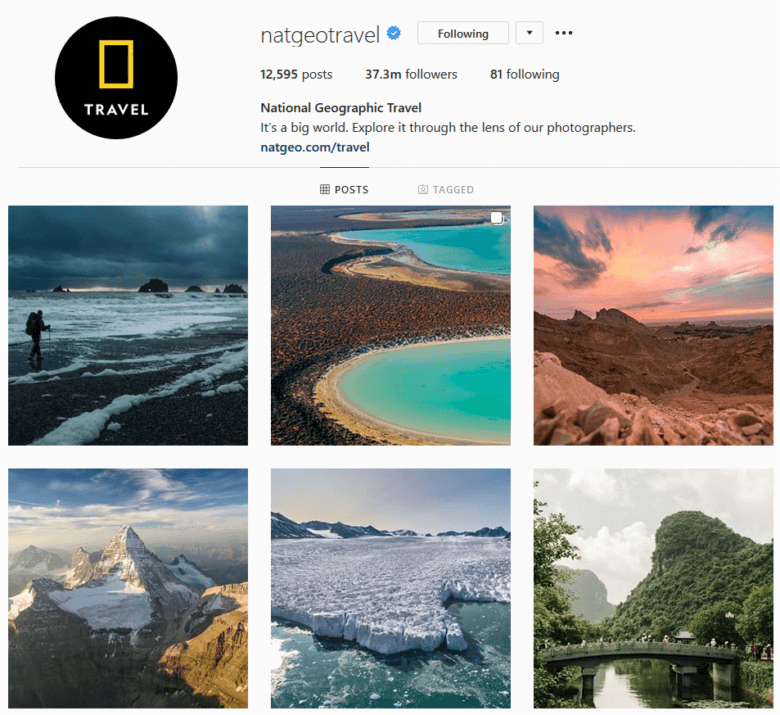 The highly visual content is a must for travel brands wanting to kill it on Instagram. National Geographic Travel have nailed it: They post beautiful and inspiring images taken by professional photographers, tagging them and captioning their pictures with stories.
Takeaways:
Make your content highly visual.

Partner with influencers and brands that match your values, promoting them and therefore attracting a new audience to your channel.
Followers: 5 million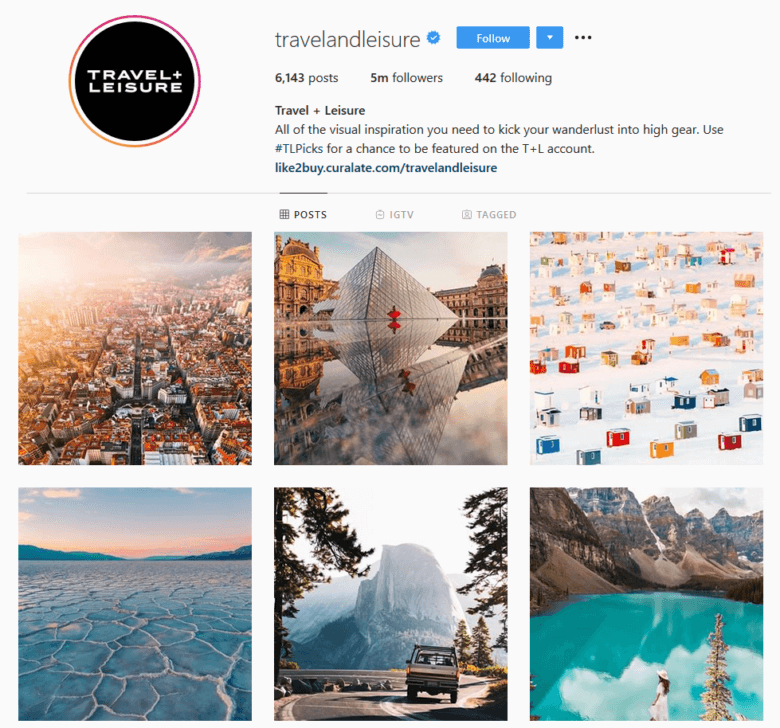 This travel brand carefully picks the content to share on their Instagram profile. Focusing on color palettes and filters, they make the page look consistent and aesthetically pleasing for followers to scroll. More than that, they use visual storytelling techniques, captioning each post with an engaging background story.
What to learn from them:
Create a strong visual identity for your brand.

Turn customers into brand ambassadors.

Use tags for more engagement.
Followers: 1.4 million
As specified by the brand themselves, 20% of travelers crave "Instagrammable moments" on social media to decide where to go next. So, Booking.com makes the most out of video content on Instagram to educate customers about destinations and engage them to use their service. They use IGTV to showcase guests' experiences and promote the benefits of choosing them.
Any tips from the brand?
Make the most out of IGTV if relevant to your business.

Use Instagram Stories to take the audience behind the scenes.

Share educational content for users to get value.
Followers: 1 million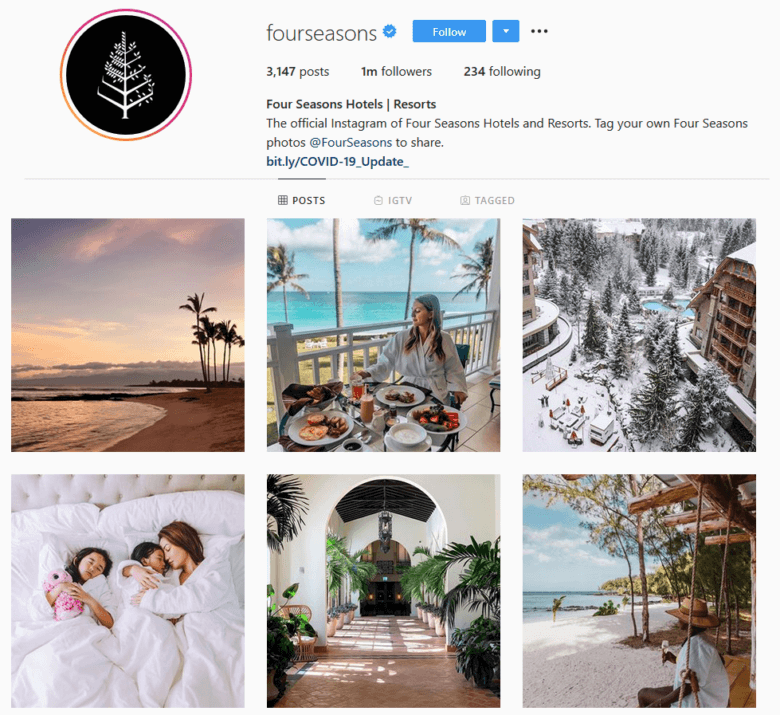 With a million followers on Instagram, this brand of hotels and resorts focuses on user-generated content, sharing the best pictures tagging their locations. It helps them and their followers to find local-specific content, as well as get inspired by beautiful destinations to visit. Also, they tag other brands in captions to create engagement and build B2B relations wherever possible.
Engage with followers, responding to their comments.

Create thoughtful content for users.

Use branded hashtags.

Encourage followers to tag you and share their UGC.
Followers: 705.9k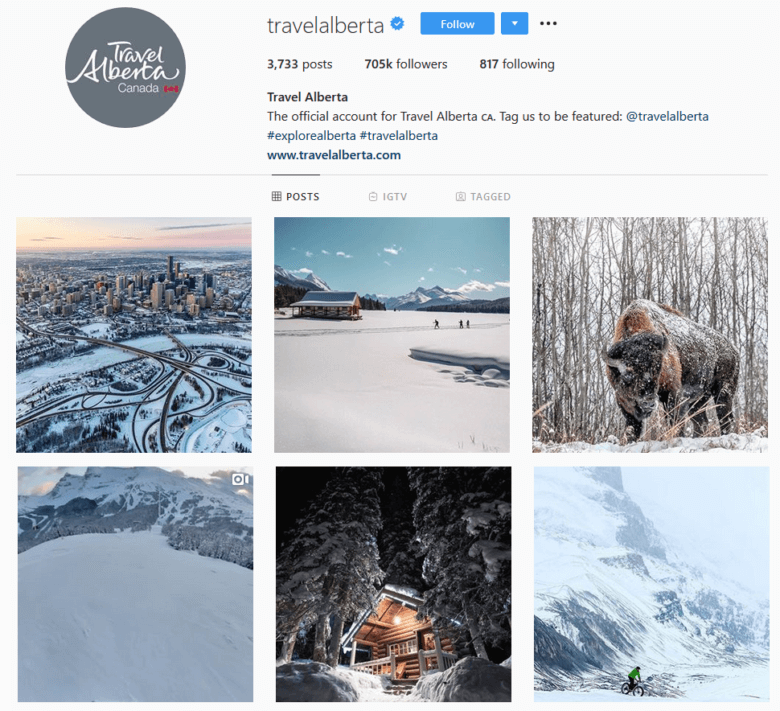 Travel Alberta is a Canadian travel brand that has mastered the art of storytelling on Instagram. They not only share beautiful pictures, tagging photographers and related partners, but also provide followers with short, interactive videos showcasing their travel offers. As we know, videos are more effective than text when it comes to communicating a marketing message; so, it's time to implement this feature to your Instagram if you haven't done so yet.
Upload

video posts

to tell your story.

Make the most out of UGC: Invite users to tag you to get featured on your page.

Use storytelling

to engage readers and help them remember you.
Best beauty & fashion brands on Instagram
Followers: 18.2 million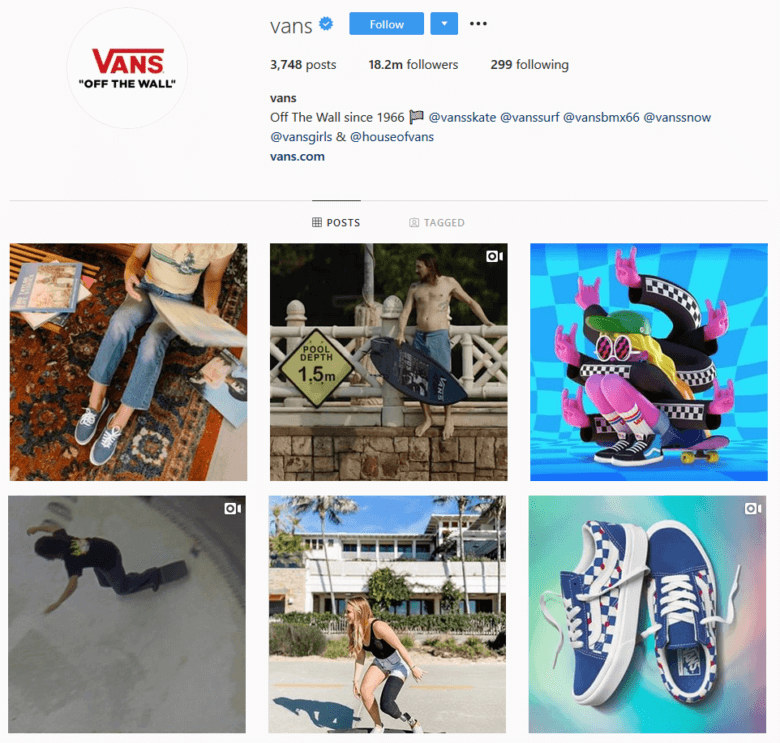 This brand and their Instagram account are all about shoes, but they don't sell and focus on products in their feed. Instead, they promote a lifestyle of adventure and feature customers, sharing compelling and authentic content that helps to build brand awareness and trust.
Their top strategy on Instagram is video storytelling that helps to engage the audience and create a connection with potential customers.
What to "steal" from them:
Encourage followers to produce user-generated content, tagging your brand.

Make your customer the hero of your brand story.

Focus on video content for better engagement.
Followers: 11.4 million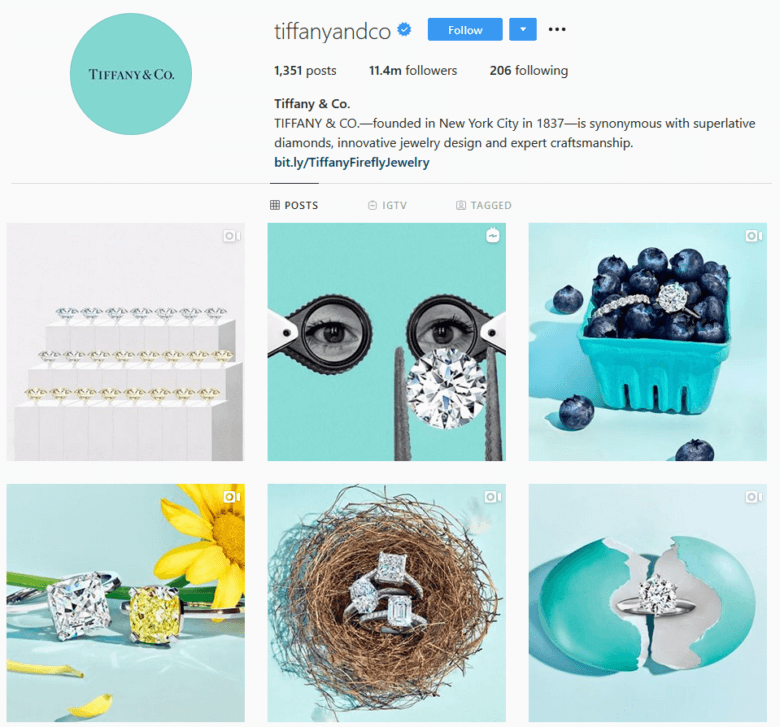 The world-famous brand of luxurious jewelry, Tiffany & Co. promotes the corresponding lifestyle in their Instagram account. They focus on the content quality, sharing images taken by professional photographers, and plan social media publications to make sure they will look superlative in the feed.
Build a powerful brand identity and stick to it in your Instagram feed.

Connect with the professional community.

Invite niche experts to share their tips.

Combine different content types to engage a broader audience.

Always have a content strategy and content plan for your Instagram account.
Followers: 4.5 million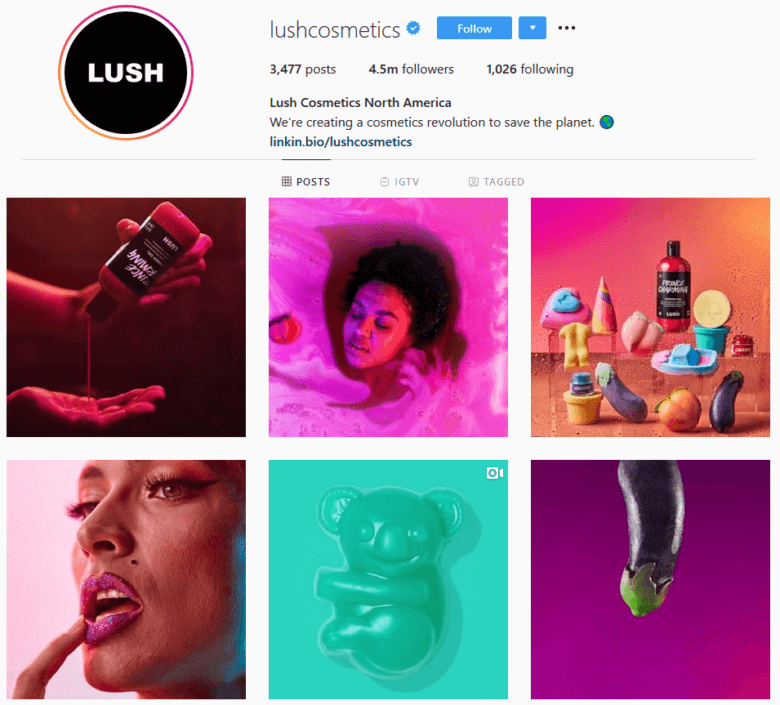 This beauty brand promotes eco-friendly products and habits, sharing the corresponding content with their audience. They work with charities, support ecological movements on their Instagram page, and engage their followers by posting bright pictures and asking questions.
Tips to follow:
Connect with the professional community.

Encourage followers to comment and share.

Let them know your mission; be sustainable, supporting local and global movements.
Followers: 2.8 million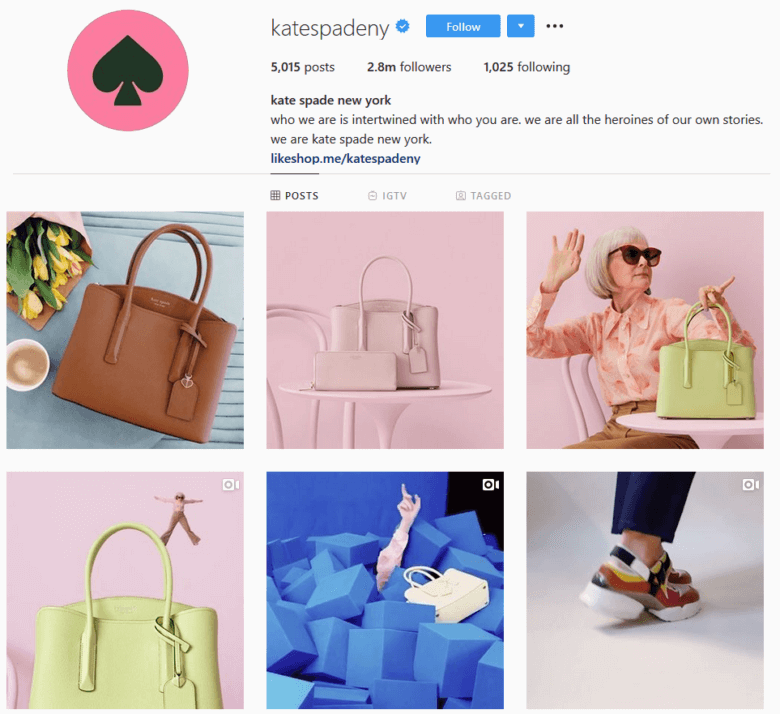 This brand is an international retailer of luxury clothing and accessories for women. Nevertheless, they stand out from other labels on Instagram: Their feed is feminine and playful, with a consistent color palette and a personal touch in every post. Kate Spade NY shares professionally designed outfit shots, behind-the-scenes shots of the design process, and Instagram Stories communicating their brand values and message to followers.
What to learn from them:
Build up anticipation through your posts.

Encourage followers to comment and share.

Upload posts with multiple images to tell your story in one post.
Followers: 119.3k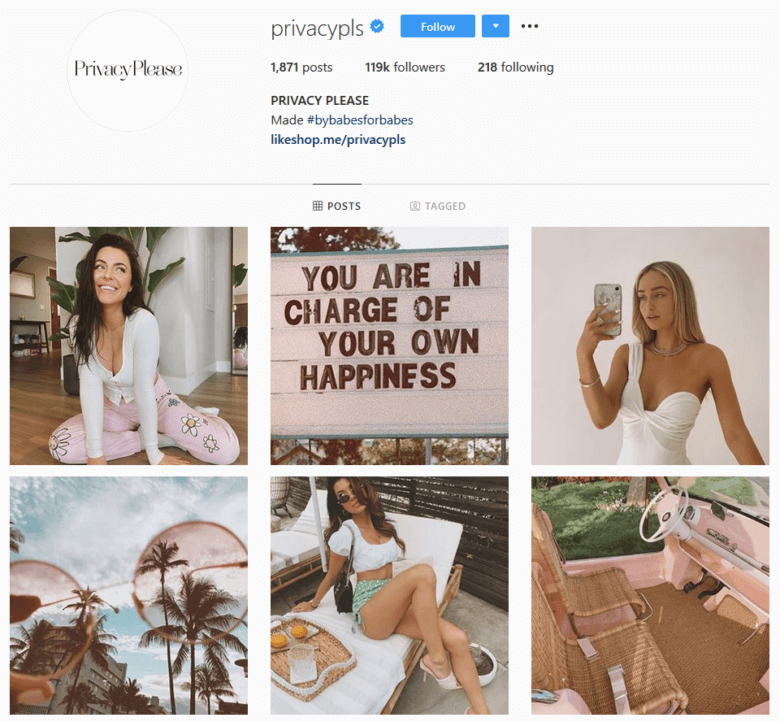 This American women's clothing brand has built a big fan base on Instagram, even without having a website! With a variety of aesthetically pleasing images, tagging customers wearing their outfits, Privacy Please remains consistent in their content, maintaining a warm aesthetic on the feed.
Anything to learn from them?
Stick to one layout, color palette, and filter.

Turn customers into your brand ambassadors.

Collaborate with influencers, tagging them in posts for better visibility and engagement.
The Ultimate Instagram Course
Learn how to build a relevant & engaged following. Create better content & leverage Instagram for your business.
In a Word
With so many users and brands killing it on Instagram, it's super challenging to stand out from the crowd with your content. But impossible is nothing for those creative and ready to experiment for future success. Learn from the best brands on Instagram 2020 by taking the content strategies that work for them and crafting them so they are relevant to your own brand voice and audience's needs, and you'll soon reap the rewards.
Ready to give it a try? Which of the above-mentioned strategies would you dare to try in your Instagram account?
---
Guest Author: Lesley Vos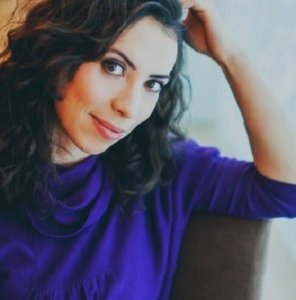 Blogger and Content Strategist — Bid4Papers
With 7+ years in marketing, Lesley specializes in sales copywriting and storytelling. Currently associated with Bid4Papers content, she's also a regular contributor to many publications on business, digital marketing, and self-growth. Feel free to find more works of Lesley on Twitter, @LesleyVos.