Back in 2016, when Instagram copied Snapchat's idea of short-lived content and introduced Instagram Stories, no one could have predicted the booming popularity of ephemeral content on the platform. 
Just within three years, the number of Instagram Stories daily active users has reached 500 million people, as specified in one report by TechCrunch.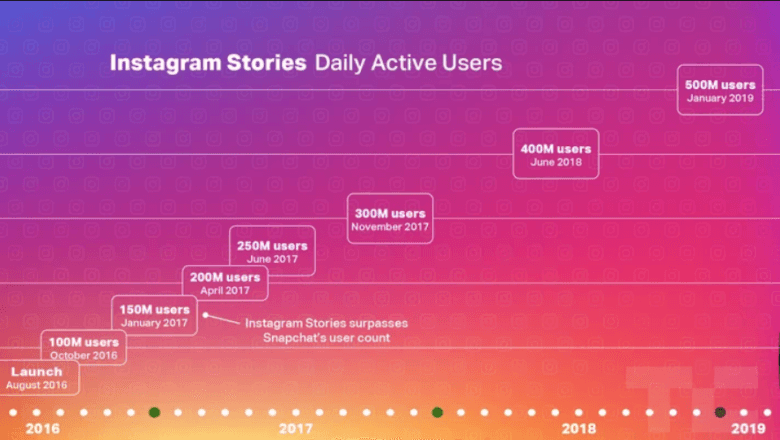 With a lifespan of 24 hours, Instagram Stories create a sense of urgency that encourages users to watch ephemeral content to avoid missing out on something important. Instagram Stories have also increased the average time spent on Instagram from 15 to 54 minutes a day. 
Simply put, Instagram Stories help to boost engagement and many brands have realized the power of short-lived content on the platform.
Any proof needed? According to Business Instagram, 50% of businesses on Instagram create at least one Instagram story a month, ⅓ of the most-viewed Instagram Stories are from businesses, and 96% of marketers surveyed plan to continue using Instagram Stories ads to achieve their goals. In other words, there's no need to get math help from digital experts to understand that Instagram Stories help to achieve business results.
If you use Instagram Stories for business, that's great. But if you want to make the most out of this content type, check out 8 Instagram Stories features that boost engagement and examples from popular brands on how to use these features. Let's dive in!
8 Instagram Stories features that boost engagement
1. Geolocation and Location Hashtags
One of the easiest ways to boost engagement is to increase organic reach and interact with your target audience. The more people see your content, the higher engagement you can achieve. Since engagement is the level of user involvement with your content, it's important to make sure that your Stories reach the right audience. 
Thus, using geotags and location Instagram hashtags increases local discovery and leads to 79% more engagement. Let's take a look at how Shake Shack uses a geolocation sticker to spread the word about its new location: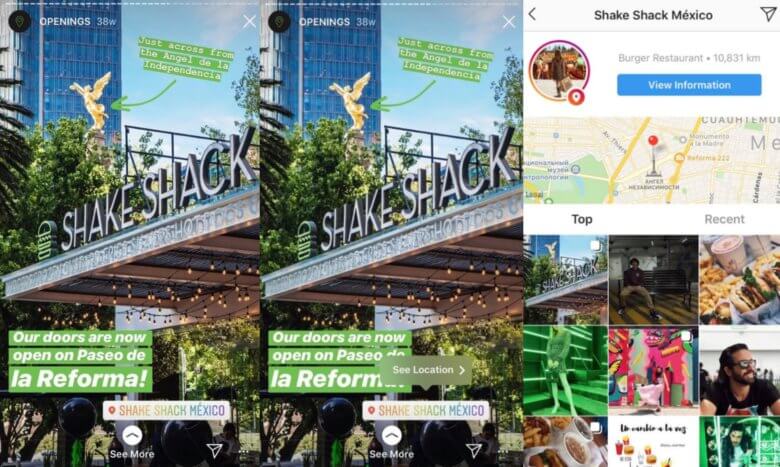 Want to know the best part? Using geotags in Instagram Stories allows you to reach people outside of your following which means you can attract more people who are interested in your product or services. As a result, you can get higher engagement rates as you reach the right audience.
Simple Post, Story + Reel Scheduling ✨
Visually plan your social content. Instagram, TikTok, Twitter, Facebook, LinkedIn + Pinterest
2. Polls 
It's in our nature to keep a focus on ourselves, so it's no wonder that users dedicate 80% of their social media posts to their thoughts and beliefs. 
Modern people are not shy to express their thoughts on social media and they are happy to share their opinions with others. Thus, the poll sticker–a one-question poll for Stories–is a great way to start a conversation with your followers and increase user engagement.
Check out how ASOS uses polls to interact with followers: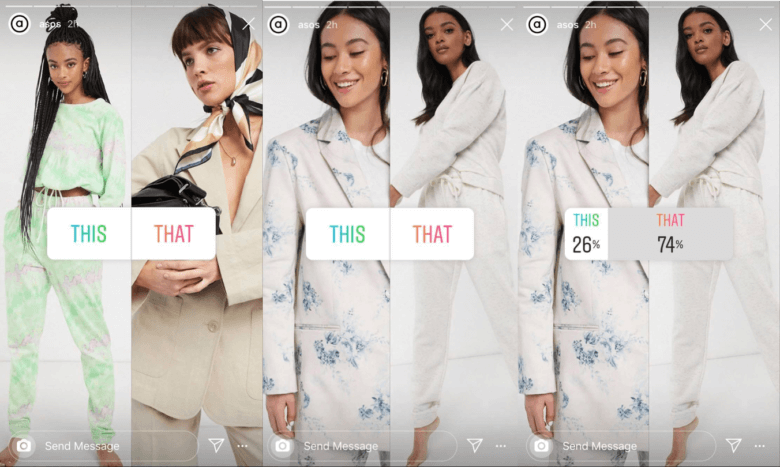 When users tap on the poll, not only can respondents choose from two options to share their thoughts, but they can also see which choice is in the lead after voting or they can also see updated results by watching the Story again later on (the poll is available for 24 hours). 
The possibility to learn more about other customers' preferences also motivates viewers to take part in polls and therefore the poll sticker boosts engagement.
3. Quiz Sticker 
People love taking quizzes as they can learn more about themselves and test themselves, so they are more likely to engage with your brand if you use the quiz sticker. 
This sticker allows you to write out your question and provide multiple-choice options (2-4 answer choices). Once users have voted, the "right" answer will be highlighted green, so they can see whether they got it right. 
Whether you want to learn more about your followers or see whether they know your company well, there are many ways to use the quiz sticker. Let's take Booking.com, for example. The company posts clues and includes the quiz sticker to test its followers. Here's how it looks: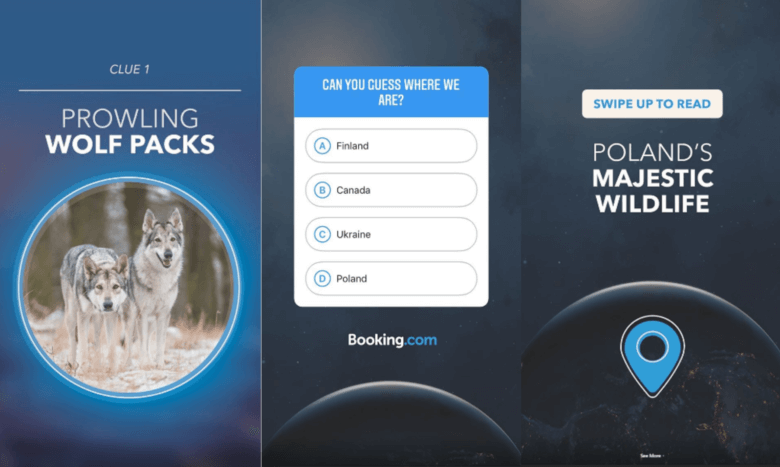 Not only does Booking.com keep its audience engaged, but the company also increases brand awareness by including its brand logo. 
If you want to create similar eye-catching Stories, you can use an online graphic design tool like Crello to find amazing Instagram Story templates that suit your brand identity.
4. Questions 
Having a solid following doesn't mean interacting with your potential customers. Once you've grabbed the attention of your target audience, it's important to ease the mind of worried customers and answer all questions. 
The discovery phase is one of the most important in the customer lifecycle as people learn more about your company and product to decide whether you can suit their needs. 
The solution? Questions in Instagram Stories! 
More and more brands use the question sticker to collect frequently-asked questions about their company and products to answer them in Instagram Stories. Here's this strategy in action from Dunkin':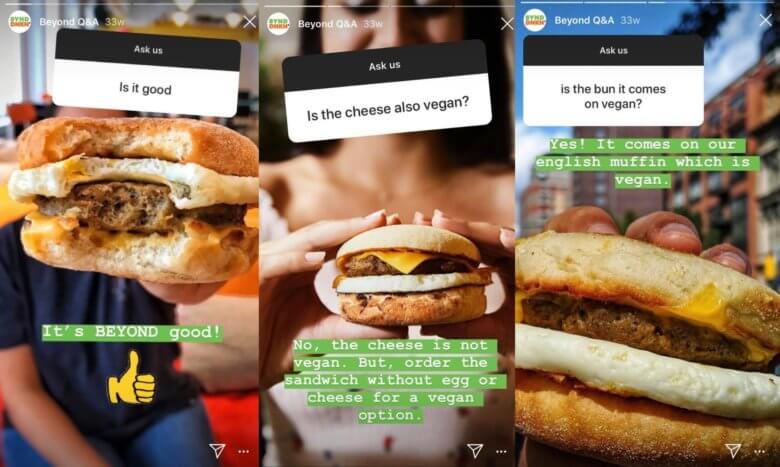 Modern people follow businesses on social media if they are interested in their products or services. When you invite your followers to ask questions about your company or product, you show that you put your customers first and it encourages viewers to interact with your company. Simply put, it's another actionable way to boost engagement with Instagram Stories.
5. Emoji Slider 
Back in 2018, Instagram announced its new Instagram Stories feature, the emoji slider. This feature allows you to ask more nuanced questions and find out how your followers feel about something by dragging the emoji to the left or right to make your decision. Since people vote with the emoji, it adds an emotional context that encourages users to participate. 
For brands, this means a new opportunity to interact with your followers and boost engagement. For instance, Tommy Hilfiger included the emoji slider when the company announced its new campaign #TOMMYNOW in Milan (Italy) to see whether its target audience was excited about the launch: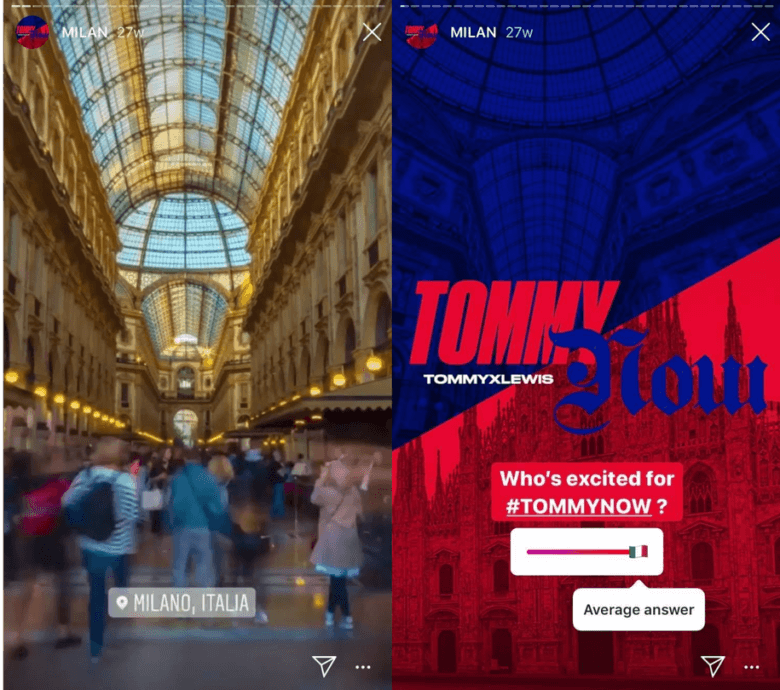 Notably, it's you who chooses the emoji for your question, so it's easy to customize your question and help your followers understand your tone and answer accordingly. For example, you can upload multiple photos/videos of a new product and invite followers to share their thoughts about it with the emoji slider. 
The Ultimate Instagram Course
Learn how to build a relevant & engaged following. Create better content & leverage Instagram for your business.
6. Shoppable Sticker
It's no secret that you can engage better with your customers if you satisfy their needs and wants. Thus, including shoppable stickers is important. Why? Over the last few years, Instagram has become a powerful sales machine and 83% of people use this platform to discover new products. 
Since people are ready to find and buy products on the platform, it's important to help them make the shopping process easier and bring your ecommerce business to the next level. 
Here's how Calvin Klein uses shoppable stickers: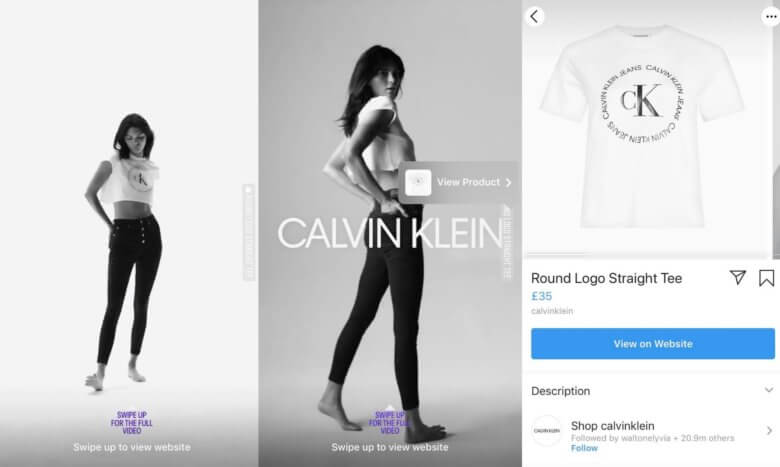 Not only does shoppable stickers allow viewers to discover featured products with ease, but they also help to improve customer experience. 
One study by GetVoIP found that people are 3.5x more likely to make additional purchases and they are 5x more likely to recommend a company to a friend after having a positive customer experience. 
In other words, when you help your customers discover and buy your products in-app, it helps to increase engagement. 
7. Countdown Sticker
It's no secret that creating a sense of urgency is one of the best ways to motivate your followers to take the desired action faster. 
With the countdown sticker, you can promote something important and allow your audience to set a reminder for any day and time (up to 1 year later) to get notified. Since people are afraid of missing out on something important, they tap on the sticker to get the countdown notification on time.?
Just take a look at an example from TailWindApp: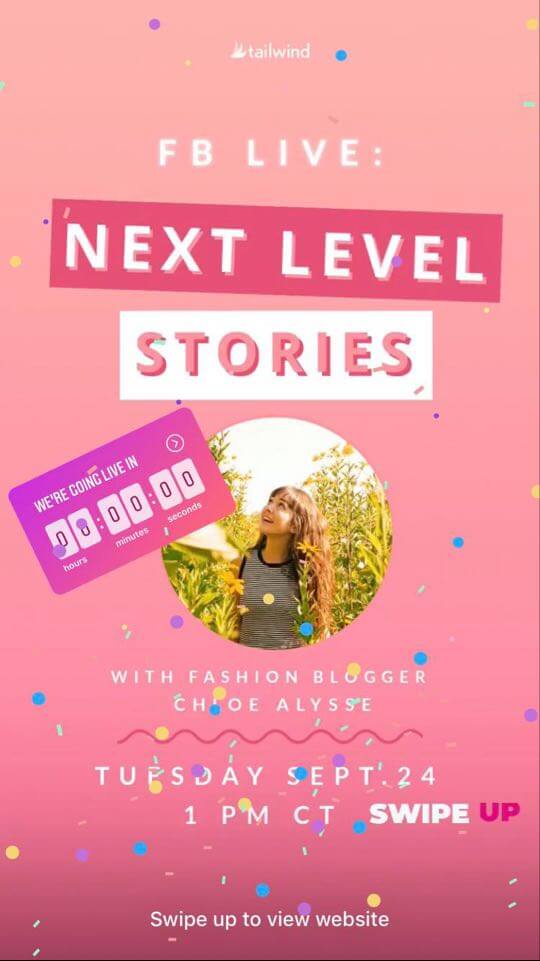 The combination of eye-catching design and the FOMO effect encourages followers to swipe up to learn more and turn on reminders or notifications. 
If you don't have an in-house team of graphic designers, you can find and repurpose stock photos to use them as background images for your Instagram Stories. Once you've grabbed your target audience's attention with the design, it's easier to interest your followers in learning more about your time-sensitive offer.
8. Swipe Up Link
If you use Instagram for business, it's more likely your aim is to grow your Instagram account. Having a solid following is great for businesses of any size and shape, but reaching a 10k milestone allows you to  access the swipe up Instagram Stories feature. 
Once you can add a swipe up link, you can redirect your interested viewers to your target website page, whether you want to take your viewers to a lead generation landing page or your blog post. This means you can help your followers learn more about your company and its products without leaving the app.
Big companies like MadeWell use the swipe up link. For example, MadeWell ran an influencer campaign to spread the word about its products and invited opinion leaders to share their thoughts. Once the company published the campaign on its website, it included the clickable link to let viewers learn more about it: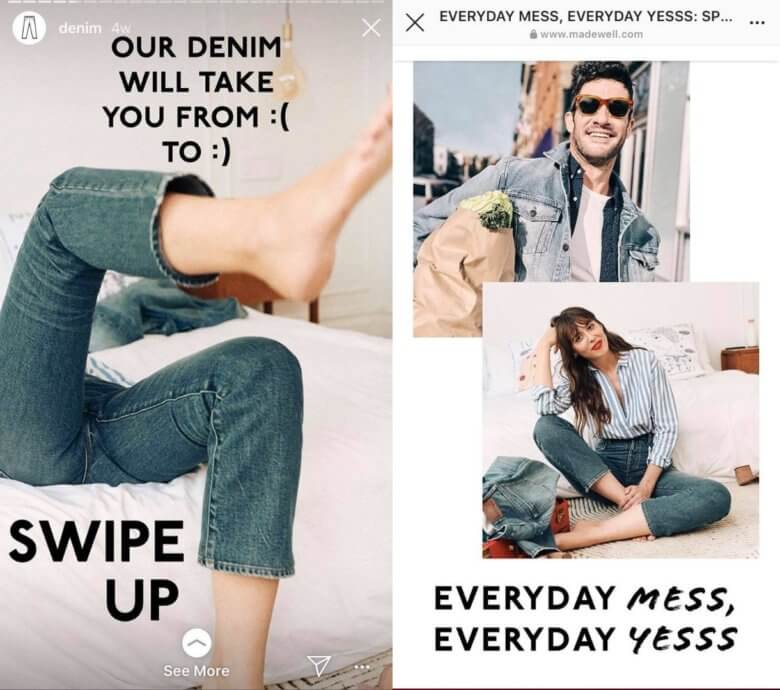 The Swipe up link lets your creativity run wild as you can add a link to any website page. If you want to promote your new product launch, you can include a link to your homepage. And if you want to collect customer feedback, you can link back to a customer survey. Want to know the best part? 
This feature helps to provide your followers with more information which makes your following more engaged and interested.
The Bottom Line
Instagram is growing in popularity among people and businesses, so it's getting harder to cut through the noise. If you want to attract your target audience and interact with potential customers on the platform, it's important to boost engagement and using Instagram Stories isn't optional these days. 
Do you use Instagram Stories to boost engagement? What is your favorite feature? Let us know in the comment section below.
---
Guest Author: Hugh Beaulac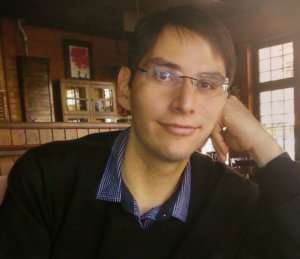 Social Media Manager and Content Strategist—MC2
With over 7 years of digital marketing experience, Hugh Beaulac is passionate about social media marketing and blogging. He helps SMBs grow online, runs MC2 blog, and writes for top-notch websites to share his marketing tips.
Twitter: @HughBeaulac